Port Vila launched Women Football !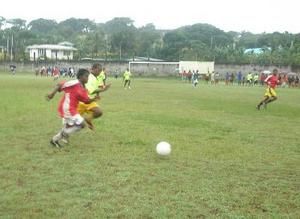 President of Port Vila Football Association Robert Calvo has launched the woman football on the 1st June at the Port Vila Stadium. 16 teams have been registered to compete during this season. The opening Cup has been completed on June this year and Ifira Woman Football Club won the Cup.
A highlight for woman football was their participation in this year Independence Celebration Cup that has been conducted last month. This occasion was for them to showcase their football skills and their capability. And of course woman football can also create excitement and joy. Two teams were regarded as favorite teams in Port Vila: Ifira and Tusker. They were qualified for the grand final. And Tusker were crown with the Independence title when it beats Ifira 2-0 with a 50 000 VT cash. Ifira took the second prize with 25 000 VT cash mo Tafea took the third prize with 15 000 VT cash. Mr. Andrew Leong the Manager of Au Bon
Marche
the biggest supermarket in
Vanuatu
sponsors the cash prize.
A first ever final for woman as to show that woman can also play football and enjoyed its values like men. Mr. Calvo said women were so interested in football but they need support to drive them in gaining their objectives. For this reason Mr. Calvo and his executive were embarked in a program to promote football among women.
"Experience shows us that some women in
Vanuatu
have skills and Port Vila Football Association must follow them to gain further training in order to develop these skills. Under this option, we take necessaries measures to work closely with them and to drive woman football in a better standard", explains Mr. Calvo.