Tafea must wake up in second round matches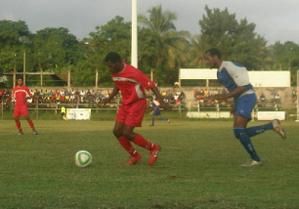 Tafea FC has to work seriously if it wants to retain the lead in the ranking. During the last Saturday match with Pango Green Bird, Tafea played an outstanding game to recover from its downfall in the first round matches. Richard Iwai scored 3 goals while Jean Nako 2 and Geoffrey Gete 1. But it is not enough to improve its position as it ranked third behind Yatel FC and Tupuji Imere FC.
Tupuji has played the second match with Amical and the score is in favor of Tupuji 3-0. The President of Tupuji Philip Malas said his boys went through tough training to enable them to take the return match very seriously. Erakor Golden Star and Westan Verts played the third match and the score is nil. The fourth match saw Yatel beat Ifira Black Bird 3-0.

Tupuji Imere took the lead in the ranking, seconded by Yatel and Tafea took the third place.