Atisson Officiated the OFC Beach Soccer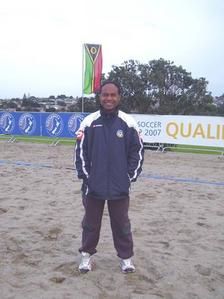 VFF Referee Development officer, Harry Atisson was appointed at the last minute by the the OFC in July to officiate the OFC Beach Soccer Tournament in Auckland New
Zealand
.
There were referees from
Solomon Islands
,
Tahiti
,
New Zealand
,
France
and
Vanuatu
. It was the first time for a referee from
Vanuatu
to officiate the Beach Soccer and Harry Atisson did very well.
Before the tournament, OFC ran a referee's course and all the referees had to go through the FIFA Fitness Test. Everyone succeeded. For Harry it was a new and different experience apart from the football and the futsal refereeing. Mr Atisson said, "I have learned a lot from the referee instructor who is from
France
and I want to thank OFC for my appointment. I will do my best as a Referee Development Officer here in
Vanuatu
to teach other referees here the Laws of Beach Soccer.
"