Vanuatu FIFA Referees to Samoa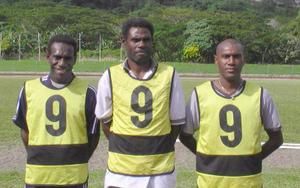 Oceania Football Confederation has chosen four
Vanuatu
referees to go to
Samoa
to officiate the South Pacific Games. Vanuatu Referee Development officer, Mr Harry Atisson said he was very pleased with the way the OFC can choose his four referees and conveyed his biggest gratitude to them as the biggest body in Football in the Pacific region.
The four chosen referees are Lencie Fred as a referee and Mahit chilia, Nawen Hopkins and Michael Joseph as assistant referees.
These four referees and other six referees from the Port Vila Football Association had

undertaken a theory , Video and Fitness Test at the VASANOC house in Port Vila earlier this month. They also took part in a fitness test at Korman Stadium. They had successfully passed the tests and are now ready to go to the SPG.