Paddling Together to achieve success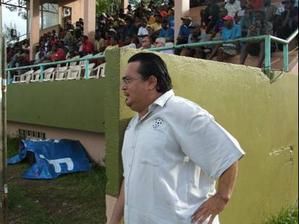 Mr Robert Calvo , the head coach of the Vanuatu Football Squad for the Samoa Pacific Games gave a very important talk to his boys during a barbecue that was organized by the team manager Andrew Leong at his own residence last Saturday night. He made an illustration of a canoe where everyone must paddle together to make the canoe go He also emphasized to the boys the importance of playing the matches with one spirit for the sake of our country Vanuatu in this SPG .
On that same night Andrew Leong the team manager presented to the players their new tracksuit, their uniform and new soccer shoes for each splayer. VFF Vice president, Mr Lambert Maltock gave a very encouraging message to the boys and reminded the boys that their going to the SPG games and playing there is no longer playing for the Port Vila Football Association but for the entire population of Vanuatu. Everyone's trust is on you now and if your results are good the people will be very happy and on the other hand if the result is not good they will be very unhappy. A lot of more encouraging words came from the assistant coach Pastor William Malas too to the boys to help keep their morals and aims high for these important SPG.
Vanuatu is placed in Pool B with Samoa, Solomon Islands, Tonga and the American Samoa. The two top teams in Pool B will be qualified for the semi finals. The top three teams will automatically enter the second round of the OFC World Cup qualification with New Zealand in October 2007.
The players in the Vanuatu Squad for the SPG are :
Chilia David, Chikau Mansale, Chichirua Andrew, Mausavakalo Ken, Vava Fedy, Haitong Maki kaisong, Jacques Yaput, Iwai Richard, Poida Moise, Jean Nako, Seule Soromon, Malas Derek, Sakama Francois, Pita Maki, Tom Tomake Philip, Malep Jean Emmanuel, Mausavakalo Fenedy, Mermer Etienne, Tarivuti Rexly, Gete Geoffrey, Obed Samsom, Bong Enest.