TOGETHER KIDS : OFFICIAL LAUNCHING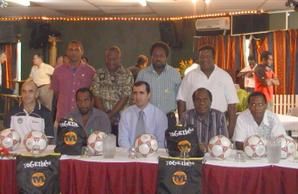 After a breakfast at Club Vanuatu last Friday with all the partners involved in the project, the Together Kids programme is now launched. Destined to all the Primary schools, training sessions for teachers, sports packs and competitions are planned this year. At least one pack of material (2 balls, 1 bag, Cones, markers and bibs) will be given to each primary schools of the country.
The first training session will start this monday 23th of August at the Academy of Teouma, and the next week, 1 session in Tanna and 1 in Santo will follow. After the competitions in november, the best school will represent Vanuatu in the OFC Youth festival in 2008 at Noumea, like St Joseph last year in PNG.