Solomon Islands beats Vanuatu 2 – 0 !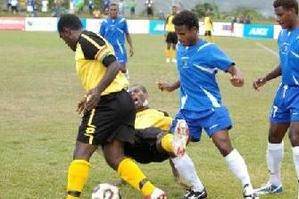 Cruel disillusion for
Vanuatu
after the defeat against one of the two favorites of the tournament with fidji. Two defensive mistakes, with also

an extravangant 60th minute backheel by Godwin Bebeu

for Solomon Islandses.
It is now necessary to beat
Tonga
next Tuesday to assure the place in semifinal, that will be against the first of the other group, the winner of the match
Fiji
-
new Caledonia
, these two teams being already qualified for the continuation of the competition.


Tuesday 4rd September, 2007
(Vanuatu Time)
1030hrs
Samoa
v
Solomon Islands

1030hrs
Tonga
v
Vanuatu
OFC Article