FIFA Instructor to transfer his knowledge to Vanuatu Futsal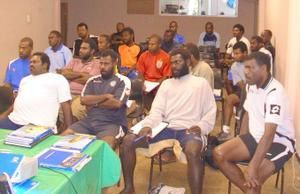 FIFA futsal training course has been officially opened on Monday by the Minister for Youth and Sports Roro Sambo. The Official ceremony has been held at the Ex FOL in the presence of FIFA Instructor, James Doyen who came from
Africa
, the Vice President of VFF Lambert Maltock, CEO of Vasanoc Henry Tavoa, the President of Port Vila Futsal League Marco Herominly and the development officer for futsal and beach soccer in
Vanuatu
, Marcellino Telukluk.
In his address, Minister Sambo said he is very happy to witness the opening of this important course in
Vanuatu
which will practically not only boost the standard of futsal but also will encourage young people to play futsal in their early age.
The FIFA course is the first of its kind since its introduction in 1992. As Mr. Lambert Maltock explained "the FIFA futsal course marked another page of history in
Vanuatu
futsal life.

This is the first stage and the second stage will be run in next two years".
FIFA Instructor, James Doyen who based in Senegal Africa, has made a long route to come in
Vanuatu
to conduct this course. Mr Doyen is the technical Advisor in the French Ministry of Foreign Affairs and he is responsible to carry out an African program called "Win in
Africa
with
Africa
". This program concerns all African football nations. The same program has been adopted by the
Oceania
"Win in
Oceania
with
Oceania
" that was spearheaded by the OFC.
Mr Maltock said all experiences, knowledges and skills gained during the course will be a great advantage for
Vanuatu
futsal. He urged all course participants to make good use of the training in order to enable them to go back in their respective Provinces and to put into practice what they have learn in the training. Mr. Maltock take this opportunity to asked Mr. Doyen to convey VFF and Vanuatu football family's sincere appreciation to FIFA and FFF for the course which would be very beneficial for the people of Vanuatu.
Mr. Doyen in his speech, he said he has attended the Grand final of Dominique Cup on last Saturday 22 September and took many notes about technical and tactical aspect and also physical and mental quality of players that throughout the course he will talk further more on them. He said it is a very good gem but coaches must work again with players to improve the quality of players' skills. He also pointed out that during the course three actions will carry out: training of coaches, training of referees and training of Vanuatu Futsal Squad.
The training course has been held at Ex FOL and Tennis Club and brings over 30 participants who come from all over the archipelago.