FIFA Instructor leads futsal squad in a friendly match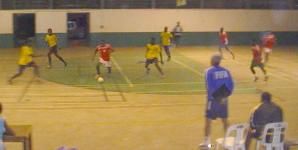 Vanuatu Futsal Pre Squad held a friendly match on Thursday evening at the Ex FOL with the Port Vila strongest football Tafea FC. The objective of the friendly match is to allow FIFA Instructor Mr. James Doyen to evaluate physical performance and skill of each squad members. The friendly match is part of FIFA training course during which Mr. Doyen try to give more instructions and advice to squad members.
The first half has been played with 12 members of the Pre Squad and the second half with the others 12 members under the expertise eye of Mr. Doyen. During the game, FIFA representative demonstrated to the players how to move in the field, how to form a defense against the opponent and how to tackle the defense of the adverse. He also speak on some technical fault that players must not repeat during the game. He asked squad members to always communicate during the game as it very important to lead a best collective game.
Mr. Doyen who is the former national coach of French Futsal Squad said each players must have technical and tactical quality as well as physical and mental quality. If members of the squad possess all these qualities they are confident to carry out an excellent game. Throughout the friendly match, the FIFA Instructor noted a major failure of Vanuatu futsal player: in 10 passes, players made only 1 pass to his partners but all the rest he put to his opponent. Mr. Doyen asks local coaches must work hard with their players to improve the technique of pass. He strongly recommends the players that "he can forgive a wrong pass but "he will cut the neck" of those that have no courage".
This match is the first friendly match of the Pre Squad since its formation last week by the Vanuatu Football Federation. And Mr. Doyen, who will leave Vanuatu on Monday, has already trained the Vanuatu coaches how to prepare their squad towards the FIFA Futsal World Cup next year.