Port Vila Stadium renovation begins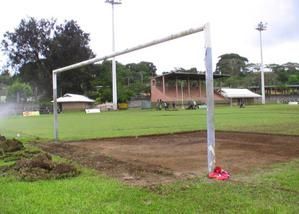 Repairs works at the Port Vila Stadium begins on Monday as to meet the international standard. The OFC head of competition, Seamus Martens was in Port Vila recently to launch the beginning of the renovations.
A task force has been appointed by VFF to carry out this renovations work in order to ensure that the stadium is ready before Vanuatu will play its first match with New Zealand on November 17 in Port Vila for the FIFA World Cup Qualifying round.
VFF requires more support from others partners to help in the renovations project. The repair works will be done in the shower room, changing room, referee's quarters, medical unit, media center, security fence, marketing room, VIP section and the pitch.

Le stade de Port Vila connaît depuis lundi des travaux de rénovation pour s'adapter aux normes internationales. Le responsable des competitions au sein de l'OFC, Seamus Martens était a Port Vila récemment pour donner le coup d'envoi des travaux.
Un comite spécial a été mis en place par la VFF pour mener a bien ce projet de rénovation afin que le stade soit prêt avant le match Vanuatu-Nouvelle Zelande comptant pour les éliminatoires de la Coupe du Monde 2008, prévu à Port Vila le 17 Novembre.
La VFF souhaite le soutien d'autres partenaires pour contribuer à ces travaux de réparation. Ces travaux touchent les toilettes, les vestiaires des joueurs, le bureau des arbitres, une cellule médicale, la zone de presse, la barrière de sécurité, un bureau pour le marketing, la zone pour les VIP et le terrain.