La distribution des packs aux écoles primaires continue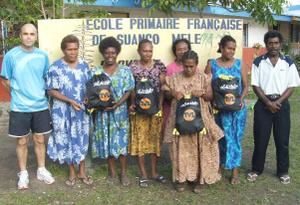 The first part of the project is practically finished with the distribution of packs to all primary schools of the country. Each school has received at minima one pack of football equipments (2 balls, 1 bag, 8 bibs, 4 cones and 6 markers / pack) to do sport activities and Football with children. More than 80% are now in the schools, the last schools to receive balls are Tanna, Ambrym and Torba, to be done certainly before the end of the next week.
To help the organization of the football activities and to prepare the finals in Islands and Province, VFF had organized three big training sessions of one week, at Efate (Academy of Teouma), Tanna and Santo. And now, Coaches from VFF are going in
differents
Islands
of the country : This week,
Wilson
August is in Pentecost, next week in
Epi
Islands
, and this Thursday, Marcellino Barthelemy will go at Manua school for all the
North Efate
, including
Islands
around.
The second part of the programme is starting now with the finals. The main finals are
scheduled
like this :


Malekula on 10th November


Tanna on 10th of November


Santo on 10th of November


Port Vila on 10th of November


North Provinces (at Luganville) on 14th or 16th of november


National final at Port Vila Stadium on 20th of November
The matchs are played on a pitch of Futsal (40 meters * 20 meters), reduced goals (3 meters width * 2 meters high), 5th-aside. Each team is constitued with 1 goalkeeper, 4 players, 1 substitute and per team at minima one girl. Children must be born in 1996-1997 (10-11 years old)
Thank you to our partners, European Union, OFC, TVL, Provincial Education Offices, the Ministry of Youth and Sport and the Ministry od Education.