Futsal - Rankings and Programme for the next week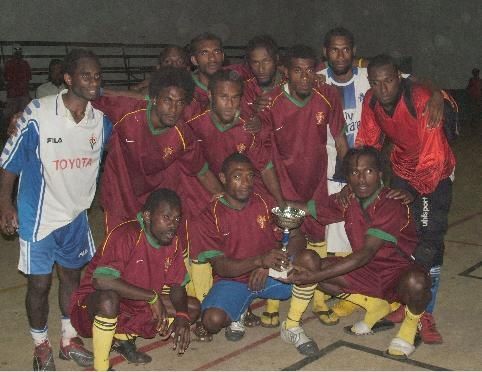 After one week off with the Fifa Futsal course, and the last week, the finals of Street Futsal, the competitions are now beginning again, for the last sprint of the season.
The situation pool by pool :
In Premier division, the champion will be either Tupuji Majik or Tusker. The Mele's team is first now, two points in advance of Tusker, but has played one match more. The last day will see the both teams playing one against the other, certainly decisive for the first position.
In Women competition, it will be difficult for IFIRA Black Bird to dispute the first position to Tusker 1, which has 4 points in advance.
In first division, Lola in group A can be Champion this week end if they win, they have already 10 points in advance with 4 matches to play. Melane, Neke and Asco Motors will dispute the second place, qualifying after 2 relegations matches to play in Premier Division.
In Group B, the situation is very tired between 5 clubs : Tusker 2, tupuji Majik 2, Wan Smol Bag, Westam United 2 and Tokyo. Like the second team of one club can't play in Premier Division, tokyo and Wan Smol Bag have a good chance to dispute the places for the Premier Division next season.
The Rankings - The Match Schedules

The programme for this week :

THURSDAY 11 OCTOBER
18:00 pm TUPUJI MAJIK 2 VS LAKAMOLI (Women Division)
19:00 pm ASCO MOTORS VS No3 AVECK (1st Division)
20:00 pm RAIDERS VS WESTAM (1st Division)
VENUE: EX FOL

SATURDAY 13 OCTOBER
12:00 pm IFIRA BB VS LAHO (Women Division)
13:00 pm TEKEREMEA VS TOKYO (1st Division)
14:00 pm AMICAL VS FAITH (1st Division)
15:00 pm LAHO VS LOLA (1st Division)
16:00 pm No3 AVECK VS TUSKER (Premier Division)
VENUE: EX FOL