Important matches moved to the Academy of Teouma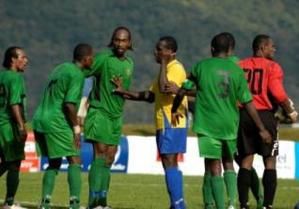 Port Vila Football Association will run some interesting matches for Premier Division at the FIFA funded
Football
Academy
in Teouma area. The main idea to move football matches to Teouma was based on the quality of the field that takes international standard. This is the first time for the Port Vila Association to use the Teouma field for his program.
On next saturday 27th November, the first match will kick off at
1 pm
between Yatel FC and Ifira Black Bird. Two favorites club Westan Vert and Erakor Golden Star will play the second match. The PVFA Robert Calvo explains that the 2007 session will be close very soon and urged every clubs to take their last games of this session very serious.
PVFA and VFF worked hand in hand to let the players be familiar on the field and to gain support for clubs, players, fans and supporters. PVFA President calls on general public who has Saturday afternoon free to make their way to Teouma field to watch very important matches for this year session.
And Entrance is free for public.

L'Association du Football de Port Vila organisera les matchs de la Division d'Honneur a l'Academie de football de Teouma, un projet financé par la FIFA. L'idée principale de déplacer ses matchs sur Teouma est basée sur la qualité du terrain qui est également aux normes internationales. C'est la première fois que l'Association de Port Vila uilise le terrain de Teouma pour ses programmes.
Samedi prochain 27 novembre,le premier match se jouera a 13h00 entre Yatel FC et Ifira Black Bird. Les 2 clubs favoris de Port Vila Westan Verts and Erakor Golden Star joueront le deuxieme match. Le President de l'Association, M. Robert Calvo a expliqué que la saison 2007 va bientot arriver à terme et a demandé aux clubs de prendre au serieux les dernier matchs de la saison.
The PVFA and the VFF ont oeuvré main dans la main afin de permettre aux joueurs de se familiariser avec le terrain et d'avoir le soutien des clubs, des joueurs, de supporters et des fans. Le Président de l'Association fait appel au public de se rendre samedi après midi àTeouma pour assister à ces matchs décisifs. L'entrée sera gratuite pour le public.