KOSSA, TAFEA ACHIEVE O-LEAGUE STALEMATE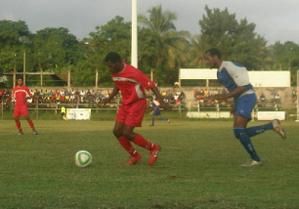 Solomon Islands
champions Kossa FC drew 10,000 fans to their match with
Vanuatu
champions Tafea FC but had to settle for a 1-1 draw. In the second
Game
,
New Zealand
Football Championship (NZFC) title-holders
Auckland
City
were too strong for Tahitian champions AS Manu Ura, with a comfortable 6-0 victory.
Former
Auckland
City
FC striker Reginald Davani now starring for Kossa FC set up the opening goal for his new club after 61 minutes when he beat two defenders before setting up Joe Luwi who smashed an unstoppable shot past Tafea FC's
Vanuatu
international goalkeeper David Chilia.
But Tafea FC were not out of the match and struck back through substitute Alphonse Welin Qorig on 71 minutes after Kossa FC defender Tome Faisi failed to cut out a through ball that allowed Qorig to round goalkeeper John Morgan to score the equaliser and shock the home crowd into stunned silence.
Tafea FC will be satisfied with the point achieved away from home at one of Oceania's most difficult venues but must now repeat the achievement on Wednesday 31st October when Michel Kalo's team travel to Govind Park, Ba, to face Yogendra Dutt's all conquering Ba in Fiji.
Kossa FC coach Jacob Moli was disappointed with a draw in front of an excellent sized crowd on home turf in a match the
Solomon Islands
champions always had the upper-hand in.
But Moli will have to wait until
February 24, 2008
, to make amends when Ba visits Lawson Tama Stadium,
Honiara
, as Kossa FC go into O-League cold storage.



KOSSA FC:

John MORGAN; Samson TAKAYAMA, Gideon OMOKIRIO, Joe LUWI, James NAKA, Franco NEE, Reginald DAVANI, Samson WA'AHERO, Tome FAISI, Inosi CAWAANIKAWAI.


TAFEA FC:

David CHILIA, Samson OBED, Jacques MAFIL NAWAN, Fedy VAVA, Moise POIDA, Jean Nako NAPRAPOL, Richard IWAI, Hubert NAKE, Francois SAKAMA,Geoffrey Lego GETE, Silas NAMATAK.
The goals
61' -

GOAL!

Reginald DAVANI eludes several challenges before finding Samson WA'AHERO who lays off a nice pass for Joe LUWI. LUWI smashes a vicious shot at the Tafea FC goal to put Kossa FC ahead after his shot gives David CHILIA no chance!
71' -

GOAL!

Tafea FC draw level thanks to a strike from substitute Alphonse Welin QORIG after a defensive error from Tome FAISI after FAISI failed to clear allowing a through-ball for QORIG to round John MORGAN and make it 1-1!