Vanuatu ready to host FIFA world Cup match qualifiers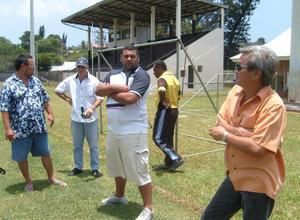 The head of OFC competitions, Marten Seamus said he will inform the FIFA that Vanuatu is ready to host the world qualifier match between Vanuatu and New Zealand all whites. Mr. Seamus made the promise during an inspection he carried out on Sunday at the Port Vila Stadium. During the inspection, the OFC envoy met with VFF officials, the President of Port Vila Football Association, Robert Calvo, Mr. Dominique Dinh of Dominique Dinh Enterprise who is responsible for the reparation works at the buildings, Mr. John Naupa of Tropical Forest Aromatic for the renovation of the pitch, the medical officer, and the head of the security service during the game Inspector Ron Tamata.
For the pitch, every thing is completed but only some small areas around the goals mouths that Mr. Naupa assured him that he only need a week to water the pitch in order to allow the grass cover the small mouth areas. For the reparation works at the building, the grand stand is completed. Mr. Dominique Dinh gives the assurance to the OFC representative that from this week, work will be done in the security fence and in the remaining area to meet the dateline.
Seamus is impressed with the progress of the renovation plan and said he believed that within the last weeks works will complete smoothly as to allow the all white to travel to Vanuatu. Until now 80% of the required works has been completed. "Really you are doing very well compare for what I saw during my first inspection and that gives you a big chance to host the match", the OFC head of competition admitted. The inspection took him to the road of the driveway down to Port Vila Stadium and here he has been assured that the Public Works will be busy this week to repair it. And about Seamus question that it is possible that Vanuatu Police to escort the all White Players to the Stadium, Inspector Tamata answered: "the players upon their arrival at the Beaurfield Airport, they will guide them through VIP lounge after they will be escorted to their hotel. During the game, Police is preparing to escort them to the Port Vila Stadium. Inspector Tamata pointed out that ova 100 officers will provide security. The number includes police officers, VMF officers and civilians.