Tupuji to fight strong to claim victory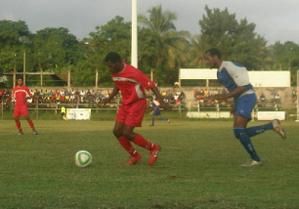 Tupuji Imere FC has to win its two last matches to claim the victory. If Mele boys win their second last match against Yatel today evening their are recently in good position to be crowned with the 2007 Championship after beating Ifira Black Bird in a high score 13 – 1. Tafea is ranked in the second position on the classment but has missed his chances to beat Westan Vert FC last Tuesday. The Port Vila longtime strong club Tafea draws with Westan Vert with 2 points each and gives more chance to Tupuji Imere to claim the championship title for this year season.
Tupuji has played his second last match yesterday late afternoon against Westan Vert. After the match, Tupuji Players will go on camp to prepare them to meet Tafea FC on Saturday at the Port Vila Stadium. This the last match from the two strong clubs of Port Vila. Tafea must beat Tupuji with a high score to claim the title. Otherwise, Tupuji will celebrate this weekend.