Sakama gets 2-weeks trial with professional Israeli club, Netanya
Vanuatu
midfielder Francois Sakama has accepted a two–weeks trial offer with an Israeli professional football Club "Maccabi Netanya" for two weeks.
The 20 years old from Imaki, Tanna leaves the country Saturday 12th January following an invitation for the trial.
The arrangement has been possible thanks to two Israeli investors, based in New Zealand, Mr Zvika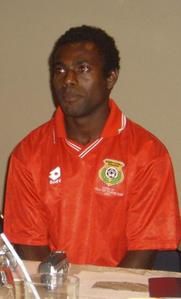 Nejman and his wife who first came in Vanuatu on October last year.


The idea to bring Sakama to
Israel
follows the wish of the Maccabi Netanya FC owner Mr Daniel Jammer, Mr and Mrs Nejman who are said to be interested invested in
Vanuatu
football development.
Mr Jammir runns a German Steel Company that employs over 20 000 employees.
At a press conference yesterday at Le Meridian, Port Vila, Mr Nejman said he is in search of young upcoming stars from
Vanuatu
.
Sakama's name came up after consultation with the president of PVFA Robert Calvo,
Vanuatu
and from reading sports reports and magazines in
Australia
and
New Zealand
about the player.
"After 14 days, I was contacted by Mr Jammer by e-mail who asked me if I still have the name and the contact of the player (Sakama) in
Vanuatu
.
"I told him yes I still have," Mr Nejman said.
Mr Jammer asked me to arrange Sakama's travel to
Israel
and gave assurance that Maccabi Netanya Management are very happy to receive Sakama for this two weeks trial.
While negotiations were under way for the trial, Sakama was on holiday on his home Island Tanna. He was recalled to Port Vila this week.
Mr Nejman congratulated VFF, Tafea Football Club, Port Vila Football Association, Francois Sakama and his family for accepting the offer.
He encouraged Sakama to showcase
Vanuatu
football standard and encouraged him to do well. He believes that God will help him to pass this trial.
Sakama was a very happy player when accepting the offer and promised that he will do his best to succeed.
He appealed to
Vanuatu
football family to pray for him in order to get a positive result at the end of the trial. If he passes the trial, he will sign a 6 months contract with the Maccabi Netanya.
His father Stephane Iaviko was elated by the news of his son and admitted to Daily Sport "I was hesitant at the beginning but at the end I have to accepted because he (Sakama) is a national asset and he must accomplish his duty as a good citizen".
During his trial, Sakama will replace Tamir Cohen, a 23 year old Israeli star who signed last week a two and half year deal with Bolton Wanderers of the English Premier League.
Maccabi Netanya are one of Israeli popular Israeli clubs who produce many top football Stars. Israeli Premier Football Association is affiliated to the UEFA League.