Futsal women begins with the Lotto Shield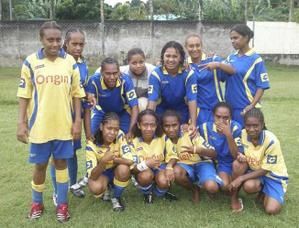 Tupuji Magic Women team start this year season with new style. The coach, Nana Malas said her team wants to make this year a season. During the first match for the Lotto Shield Tournament on Saturday 9th February, the magic women proved their word when they beat Tusker 2 with a high score 11 – 2.
Last year, Tupuji Magic never won a game with high score, but as the coach said "We are prepare to face strong challenge this year and we will treat all the games with seriousness. The Lotto Shield is a tournament that composed of the best four club of 2007 Championship. The second match was played between Tusker 1 and Ifira Black Bird. The two teams draw with 2 point each. Tusker 1 was the favorite team during the past years, but it seems that it would face difficulties this because every teams are preparing for this year season.