VFF acknowledges contributions of OFC advisor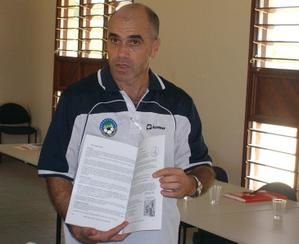 T
he partnership agreement between the VFF and Air Vanuatu has been possible thanks to the hard work of the OFC advisor to the VFF, Yvon Avry. Mr. Avry is not present during the signing agreement following his oversea mission that leads him to
New Caledonia
,
Tahiti
and
Zurich
,
Switzerland
.
The VFF President, Lambert Maltock said himself and his Executive register their personal thanks to Mr. Yvon Avry for this dream come true. Mr. Avry, who took up his mission in
Vanuatu
at the request of the OFC President Reynald Temarii has been instrumental to many projects in
Vanuatu
. Mr. Yvon Avry's mission in Vanuatu is to facilitate the VFF to perform his duty in an effective and efficient manner and to join the VFF to drive amatory football to semi professional. Mr. Maltock explained that the VFF have many respect to his technical advisor because without his effort and his consistent negotiations, including his professionalism know-how, this successful partnership with Air
Vanuatu
may not come about.
Since his deployment in
Vanuatu
last year, he is the main person behind the two prestigious partnerships with two notorious local companies in
Vanuatu
, Air
Vanuatu
and Telecom.