Four officials from Vanuatu to OFC Olympic qualification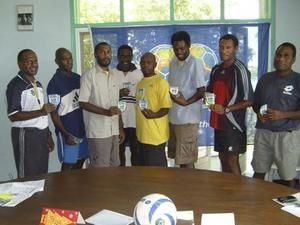 OFC is pleased to inform the Federations that for theo OFC Olympic Qualification, the following match officials will officiate at the tournament listed belows :
Referees:
VARMAN Rakesh Chand, Fiji
O LEARY Pever, New Zealand
HESTEF Michael, New Zealand
MINAN Job Ponis, Papua New Guinea
AIMAASU Fiti Joseph, Samoa
MOLI Andrew Didimae, Solomon Islands

HAUATA Norbert, Tahiti

FRED Lencie, Vanuatu

Assistant Referees:

ACHARI Andrew Anand, Fiji
DAYAL Rohitesh, Fiji
BEST Brent Charles, New Zealand
ANI Hillary, Papua New Guinea
AUVELE Collins, Samoa
TARO Matthew, Solomon Islands
REVEL Philippe, Tahiti
CHILLIA Mahit Kaloatu, Vanuatu
JOSEPH Michael, Vanuatu
MAKASINI Tevita, Tonga
Referee Assessors:
RAVEINO Massimo, Tahiti
POLOSO Nehemiah Neil, Solomon Islands
SEGRAN Chandra, Fiji
Security Off item:
MARTEN Seamus, OFC
Match Commissioners:
ALUFURAI Martin, Solomon Islands
MALTOCK Lambert, Vanuatu
GUILLEMONT Frederic, OFC

Teams: Fiji, Cook Islands, New Zealand, Papua New Guinea.
Solomon Islands
,
Vanuatu

The winner of the tournament will be qualified for the Men's Olympic Football Tournament in Beijing 2008.
Date: 1-9 March 2008
Congratulations to our President and th our Referees, and Thanks to Harry Atisson for Courses and Preparation.