COOK ISLANDS vs. VANUATU : 0-4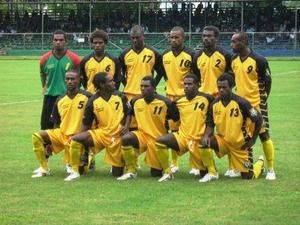 LAUTOKA - Its wet and humid for match two of the OFC Men's Olympic Football Tournament as Cook Islands prepare to meet dark horses Vanuatu in front of a crowd of approximately 5000 fans at Churchill Park.
Earlier New Zealand edged hosts Fiji by 2-1 thanks to a late Steven Old goal in the final moments of an enthralling match. Vanuatu coach John Philemon will be looking for maximum points as his team chase OFC's Olympic Games berth.


The goals :
16' GOAL! Its 1-0 to Vanuatu Joseph NAMARIAU crosses for Jeffry NIMANIAN and Wearing has no chance
40' GOAL! Mii Joseph denies Vanuatu with some good defending but Sakama's shot hits the bar and Jeffry Niminian makes it 2-0 to Vanuatu!
HALFTIME: COK 0 VAN 2
47' GOAL! Francois Sakama makes no mistake from the penalty spot and Vanuatu takes a commanding 3-0 lead
83' GOAL! Vanuatu make it 4-0 on the counter-attack - a cruel blow for Cook Islands after enjoying its best spell of the match Tonny Chillia the hero for Vanuatu
FULLTIME: COK 0 VAN 4
COOK ISLANDS :
1. Remi WEARING; 2. Mii JOSEPH; 3. Eddie BROGAN; 4. Steve WILLIS; 6. Joseph LE MOUTON; 9. Paavo MUSTONEN; 10. Thomas LE MOUTON; 11. John Michael QUIJANO; 15. Gichin FUHINIU; 14. John BATAILLARD (c); 19. Tuka TISAM.
SUBS: 7. Davey SILVA; 8. Grover HARMON; 12. Branden TUREPU; 13. Roger MANUEL; 16. Ngatungane TANGIMETUA; 17. Ngatamaine SILA.
Coach: Tim JERKS (AUS)
VANUATU :
1. Charley KALNASEI; 2. Andrew CHICHIRUA; 5. Samuel KALOROS; 6. Wilson KAILO; 7. Spencer NOAL; 9. Roger JOE; 10. Fenedy MASAVAKAULO; 11. Jeffry NIMANIAN; 13. Francois SAKAMA; 14. Joseph NAMARIAU; 17. Geoffrey Lego GETE.
SUBS: 3. Bula CHILLIA; 4. Rexley TARIVUTI; 8. Apete KARA; 12. Michel KALTAK; 15. Manu PETER; 16. Tchamaco MAHE; 18. Brian MELAR; 19. Tonny CHILLIA; 20. Yannick MERKA (RGK)
Referee: Rakesh VARMAN (FIJ)
Assistant Referee 1: Andrew ACHARI (FIJ)
Assistant Referee 2: Tevita MAKASINI (TGA)
Fourth Official: Andrew MOLI (SOL)