VANUATU vs PAPUA NEW GUINEA - 2-7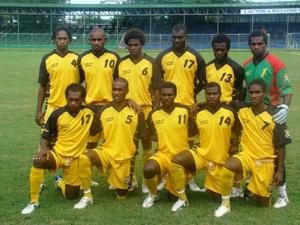 LAUTOKA - With
Oceania
's representative at the Beijing Olympics already decided,
Vanuatu
and
Papua New Guinea
will have the luxury of playing with a sense of freedom and relaxation.
Expect an exciting match however as
Papua New Guinea
's exciting up-and-at-em approach is sure to gaurentee goals at both ends of the pitch.
Samuel Kalaros, Spenser Noal, Fenedy Masauvakalo and Geoffrey Lego Gete are all recalled from suspension for
Vanuatu
as the Air Vanuatu Warriors seek to salvage some pride from this tournament.
Papua New Guinea coach George Cowie has opt kept faith with the players that have performed so well and after the brave performance of the women's team yesterday in Port Moresby, who knows, there could well be an upset on the cards here in Lautoka for the men.
The Goals:
10'-

GOAL!

Samuel Kini makes it 1-0 to
Papua New Guinea
!
13'-

GOAL!

Tau Winnie shoots and scores his fourth goal of this championship and
Papua New Guinea
are in control!
17'-

PENALTY!

Winnie is brought down and its a penalty to
Papua New Guinea

18'-

GOAL!

David Muta scores with aplomb to make it 3-0 -
Vanuatu
are sinking as
Papua New Guinea
race into a 3-0 lead!


HALFTIME:

VAN 0 PNG 3
52'-

GOAL!

Michel KALTAK sparks a revival after Tarcicius Mandarip loses the ball in front of the 18 yard box
61'-

RED CARD

12. Michel KALTACK sent off for a foul on David Muta
63'-

GOAL!
Papua New Guinea
strike back straight away and score through Raymond Gunemba!
68'-

GOAL!

Jason Wesley's fine volleyed cross finds Tau Winnie and he nods
Papua New Guinea
's fifth goal!
75'-

GOAL!

Koriak UPAIGA is sent one on one with Kalnasei and rifles home a sixth for
Papua New Guinea
!
79'-

GOAL!

Fenedy MASAUVAKOLO slots home a left foot shot to give
Vanuatu
some consolation
90+2'-

GOAL!

Tau Winnie scores a seventh! Amazing finish for
Papua New Guinea
!


FULLTIME:

VAN 2 PNG 7

VANUATU
: 1. Charley KALNASEI; 4. Rexley TARIVUTI; 5.
Samuel KALAROS; 6. Wilson KAILO; 7. Spencer NOAL; 10. Fenedy MASAUVAKALO; 11. Jeffry NIMANIAN; 12. Michel KALTACK; 13. Francois SAKAMA; 14. Joseph NAMARIAU; 17. Geoffrey Lego GETE.
SUBS: 2. Andrew CHICHIRUA; 3. Bula CHILLIA; 18. Apete KARA; 9. Roger JOE; 15. Manu PETER; 16. Tchamaco MAHE; 8.
Brian MELAR; 19. Tonny CHILLIA.
COACH: Philemon JOHN (VAN)
PNG: 3. Mathew YANG; 4. Cyril MUTA; 5. Tarcicius MANDARIP; 6. Samuel KINI; 7. Fabian BAGI; 9. Tau WINNIE; 12. David MUTA; 14. Raymond GUNEMBA; 15. Rodney TALAU; 16. Koriak UPAIGA; 20. Gure GABINA [gk].
SUBS: 1. Anthony PIPI; 2.
Lawrence
MOSES; 10. Jason WESLEY; 11. William MOBBS; 13. Mathias APO; 17. Roniel IGENS; 18. Charles PARANDA; 19. Niel HANS.
COACH: George COWIE (SCO)
REFEREE: Rakesh VARMAN (FIJ)
ASSISTANT REFEREE 1: Collins AUVELE (SAM)
ASSISTANT RFFEREE 2: Salesh CHAND (FIJ)
FOURTH OFFICIAL: Andrew MOLI (SOL)