VFF names futsal pre squad for World Cup qualifiers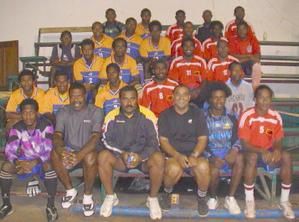 VFF announced this week a 28-futsal pre squad members. This numbers includes players from both disciplines outdoor and indoor soccer. The first training session has been held on Monday afternoon at the Ex FOL. The pre squad comprised of Mansale Chikau, Mansale Daniel, Pala Pascal, Bule Walter, Luankon Therry, Samson Toto, Mera Timtim, Vira Ala Jack, Edward Ben, Dominique Louis, Joel Ben, Basile Stephen, John Rex, Kency Remy, Mael Tungen, Tanga Mata, Taravaki Jino, Malas Derek, Fenethy Masavaukalo, Rogatien Malvirlani, Iwai Richard, Poida Moise, Vava Fredy Abel Louis, Iata Richard and Reynolds.
The officials:
Toroy Sokomanu

(Head of delegation),
Marcellino Telukluk

(Head coach),
Marco Herominly

(Assistant coach),

Glen Desonneville

(Team Manager),
Peter Takaro

(Assistant team Manager)

Albert Iata

(Physio.).

Vanuatu
will join
New Zealand
,
Fiji
,
Tahiti
,
New Caledonia
,
Solomon Islands
,
Tonga
, and
Cook Islands
to compete for the
Oceania
representative at the Futsal World Cup to be held in Marseille on September this year.