WairarapaUnited into final : Hat Trick to Soromon Seule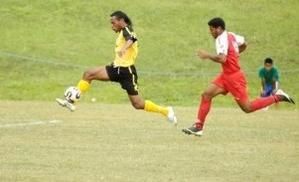 Wairarapa-United (New Zealand) are through to the final of the Hilton Petone pre-season men's soccer tournament after hammering Waterside-Karori 5-1 at Petone on Sunday.
But anybody thinking coach Phil Keinzley would be waxing lyrical after a four-goal win over opposition which actually finished three places above them in the Capital premier division competition last season had better think again.
While "pretty pleased" with the manner and size of the victory Keinzley was quick to relate the collective effort to that recorded against higher graded Lower Hutt City seven days previously-a match won 4-2 by Wairarapa United despite playing with 10 men for all but the first 10 minutes-and found there was no real comparison to make.
He said no individual in the Wairarapa United squad would have scored less than eight out of 10 against Lower Hutt City but some would have struggled to get a four against Waterside-Karori.
"Collectively we weren't as good - nowhere near as good," Keinzley said. "Yes, we scored five goals but there wasn't the same level of commitment, some players had top games and others were just average."
Keinzley believes that if Wairarapa United had reached the levels they did against Lower Hutt City they could well have added three or four more goals to their tally.
"We dominated possession and managed to hold onto the ball for long periods but we didn't always take our scoring chances," he said. "So while five goals sounds great it could have been better".
As it happened the their first goal was probably Wairarapa United's best.It was scored by Andy Robertson after he had run onto a well-timed pass from
Pita Rabo, Robertson rocketing the ball into the net with his left foot despite being naturally right footed
A hat trick to Vanuatu international Soromon Seule and one goal to Rabo completed the scoring action for Wairarapa United with that duo constantly posing problems for the Waterside-Karori defence with their speed on and off the ball.
Any player of the day award for Wairarapa United, however, would have gone to Carl Shailer who made the final pass for three of their goals and who maintained a high workrate all game while James Oxtoby was also a tower of strength in the middle of the defence.
Sunday's win takes Wairarapa United into the Hilton Petone final on March 30 against central league side Wellington United who beat Olympic 3-0 in the other semi.
From the little he has seen of Wellington United this season Keinzley rates them as being stronger than last year when Wairarapa United beat them in a Chatham Cup fizture. "They seem to have picked up some talented younger guys and they will be a handful, no doubt about that," he said.
The actual Wairarapa United line-up for the final won't be decided until early week but Keinzley said he "very definitely" would be continuing a policy of using the Hilton Petone matches to ascertain the best combinations for the Capital premier division competition which gets underway in early April..
"Obviously it would be nice to win the final but it's not where the real focus is," he said. "If we want to play central league next year we have to win the premier division and that's the ultimate goal."