United FC get their man: Chikau Mansale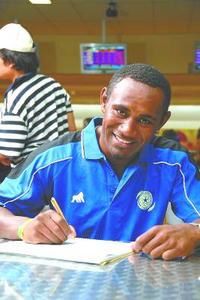 All it took was a quick google search and Vanuatu football star Chikau Mansale (Our photo : Chikau all smiles as he signs on the dotted line for his new club ) was Logan United FC's most wanted man.
Last Monday, United signed Chikau as their first player to compete in the new Queensland State League.
The 25-year-old has played nine international games and said he can't wait for the season to begin.
"It's different and exciting," Chikau said. "Back home I'm at the peak of where I can be, but now playing in the QSL, gives me lots of new challenges and goals."
Chikau was in Australia for the Christmas break to see his mate Angus McIlrath.
Angus, the manager of the Mt Warren Lanes ten pin bowling facility, got an idea to help Chikau's desire to play in Australia after reading The Reporter, earlier this year.
"Chikau was staying with us and I read the article about Logan United's entry into the new state league," Angus said.
"I knew Chikau wanted to play in Australia so we phoned the chairman Mel Swindells straight away. He said they were keen to have a chat and arranged a meeting for a week's time.
"Just before I hung up, I quickly told him to google Chikau so he could get some background on him.
"In less than five minutes Mel had called me back and said we better meet up in the next couple hours to talk about signing Chikau," he said.
Chikau is described as one of Vanuatu's best players. Playing for his club Tupuji Imere as goalkeeper, Chikau admits he has trouble walking around the village without someone asking for a signature.
Since he was six, Chikau and his four brothers would go down to the local parks to play football.
Sitting in the dining area of the Mt Warren Lanes, Chikau remembers the days when he dreamed about playing overseas.
"International jets would regularly fly over the small field where we use to play each day ," he said.
"Everytime they flew over my brothers and I would stop. We'd think one day we will be on that jet going away to play soccer. Fortunately I now have that chance."
Currently the only player in the league to have any international experience, Chikau is sure to generate plenty of interest by the time the season kicks off on March 30.
Chikau knows that with popularity comes criticism, but he's confident that he can help lead United to a successful year.
"I know everyone will be watching me, but I want to win," Chikau said.
"I have a lot of goals for myself, but put simply I need to keep the ball out of the net and that's my job.
"I want to be a leader, but I will have to learn to adjust to the different-style of game before I can start telling my team mates what to do."
Following him throughout his career, Angus is confident Chikau will have a big future.
"At the age of 25, Chikau is still learning and I believe he's at the prime of his career," Angus said. "One of the reason's why he decided to play in the QSL, is because he wants to one day play for the Queensland Roar in the A-League."
So do yourself a favour. Next time you're on the computer, make sure you google Chikau Mansale and find out yourself just who he is or better still get along to a game and see first hand.