Erakor FC beats Westan Verts 7 – 1 in the Super 5 series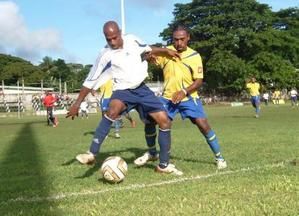 Pool game for the Super 5 tournament saw

Erakor Golden Star doing his first match with Westan Vert last Saturday at the Port Vila Municipal. A very close match between the two favorites club that gives chance to Erakor to win the match 7 - 1. Erakor win has seen as an encouragement for the boys in black and yellow t
o carry out a strong campaign for the Super 5 warm up for the official opening of the season which would take place on July this year.
It's a close match because both teams scored each point in the first half. And in the second half, Erakor Golden Star doubled its chance when referee awarded red card to Despite the referee's decision Westan Vert tried to dominate the game but pressure was in favor to Erakor Golden Star to score 6 more point that gives 7 – 1 win in favor of Erakor.
Erakor Golden Star gives a new look at its football for this coming season as every plays were new and young. Erakor is a football village that produces many international players. And they prepare very well to compete and take on strong challenges on this coming season.
Tupuji Imere and Yatel FC played the second match. Tupuji dominated the game in the first half and grabbed the chance to score their two first points. But Yatel coach chance the formation and call his substitute Remy Kensy to enter the field. With this change, Yatel managed to score two points in the second half and put the match with a draw 2-2.


PVFA SUPER 5 SERIES ( RESULTS & PROGRAM )
ROUND 2 - SATURDAY 29/03/2008

ERAKOR G.S FC

-

WESTTAN VERTS

7 – 1

SCORERS

: ERAKOR : KALTAK Micheal

( 2 ), YELOU Robert ( 2 ), KALSRAP Kalangis, TARI Sewlyn, WV Own

GOAL. WESTTAN VERTS : TESS

Jeffry

TUPUJI IMERE FC – YATEL FC

2 – 2
SCORERS : TUPUJI : MASAUVAKALO Fenedy, CHILIA Tony. YATEL : MALEB Jean Victor, MELAR Brian

ROUND 3 - SATURDAY 05/04/2008 - PORT-VILA STADIUM
13.30 PM : TAFEA FC

vs

ERAKOR G.S FC
15.30 PM : TUPUJI IMERE FC

vs

WESTTAN VERTS FC