Vanuatu team manager confident to take Vanuatu boys to Brazil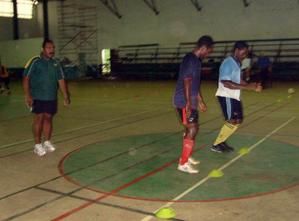 The team manager for Vanuatu futsal Squad, Glen Dessoneville said his squad is preparing to take the first place in OFC Futsal World Cup Qualifier that schedules from 8th to 14th June this year in Fiji. Mr. Dessoneville explained Vanuatu Squad will aim for the high position and Fiji will be their chance to qualify for the World Cup tournament in Brazil.
"I am personally very confident to our coach, Marcellino Teluluk Barthelemy who gave his best to the interest of the squad and confident to the present squad as the training is very tough to allow our boys to display high quality futsal in this tournament. And of course I am present in all training sessions and if something very turning wrong I have to redress to allow a better result", explained the team manager.
He also pointed out the Vanuatu aim to win and to board plane on November this year for Brazil.