Tafea FC beat Erakor GS 1-0 in a hot Round of Super 5 Series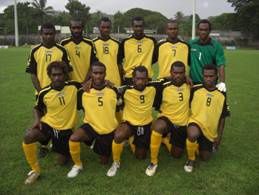 Tafea FC recorded its first win in the Super 5 Series after overcoming Erakor GS 1-0 in a hot round of the newly created PVFA competition.
Tafea FC had to wait until the 80th minute to score the only goal through a penalty by Samson Obed after Francois Sakama was brought down by Erakor keeper Ernst Bong in the penalty box.
Both sides fought hard and battled bravely in this game and it was never clear who was going to win it until the penalty.
Erakor dominated the game from the start, with Yellou Robert and Kaltak Michael posing constant threats to theTafea defence. Tafea had to work extra hard to hit back with Jean Nako and Etienne Mermer. However, neither of these two national strikers was able to score.
The insertion of Francois Sakama in the second half gave Tafea more opportunities in the second half.

Moise poida missed an opportunity to open the score when his attempt to

lob the Goalkeeper was snatched by Ernst Bong.
Sakama persistance prying attacks finally paid off in the 80th minute when he was unceremoniously brought down in the penalty box by Erakor's keeper. Referee Mahit Chilia indicated straight away the Penalty spot and awarded a yellow card to Golden Star keeper Ernst Bong.

As usual, Samson did not miss from the penalty spot.
The strong performance displayed by both teams

shows that the race for a berth in the final is getting serious
.
Tafea FC : Chilia D./Gete G./Vava F./Thomas R./Obed S./Poida M./Qorig A./Iwai R./Nake
H./Mermer E./Nako J.

Coach : Former National Rep. and Tafea Defender , Graham Demas has been appointed Coach of Tafea FC
Erakor GS : Bong E./Kalros S./Jessy.J/Kaluat S./Masauvakalo K./Malas.D/Garae.R/Tari S./Tasaruru K./Yellou J.R/Kaltak M.
Officials : Mahit Chilia / Alick Lukai / Harry Berry / Atanas Rakrak


The other weekend Match between Tupuji Imere FC and Westtan Verts FC has been cancelled by
Referee Atanas Rakrak after 20mns due to weather conditions. Heavy Rain and Thunder storms forced the Referee to Stop the game.


PVFA SUPER 5 SERIES - STANDINGS

Position

TEAMS

PTS

G.P

W

D

L

F

G+

G-

G.A

1

ERAKOR G.S FC

3

2

1

0

1

0

7

2

5

2

TAFEA FC

3

1

1

0

0

0

1

0

1

3

TUPUJI IMERE FC

1

1

0

1

0

0

2

2

0

4

YATEL FC

1

1

0

1

0

0

2

2

0

5

WESTTAN VERTS FC

0

1

0

0

1

0

1

7

-6