Super Five Series : TAFEA FC move up to first place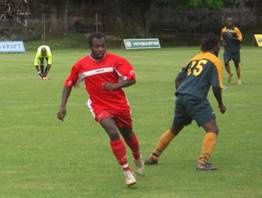 Two early goals by Jean Nako in the second half helped TAFEA FC move up to first place in the Super 5 Series with a 3-0 win over strugglers Westtan Verts last Saturday at the Port-Vila Municipal Stadium.
The strong sun forced the two teams to start in slow tempo with both teams having a cautious spell, however, Westtan Verts FC nearly opened the score in 22th minutes of the game when Jeffrey Tess took a rebound off keeper David Chilia but unfortunately his shoot was stopped on the line by Tafea Defender Freddy Vava.
Jeffry later on, made a second attempt but his shoot went on straight to Tafea goalkeeper.
While both sides managed to create some chances, no goals were scored in the first half.
Jean Nako settled the match early in the second half when it only took him 5 minutes to strike twice for Tafea and putting his side ahead.

Nako scored his first goal just at the kick-off of the second half when he tapped the ball inside the net after Samson Obed supplied him with a perfect cross.

Only 5 minutes later, after h

aving beaten three men on the edge of the box, the undoubtedly Man of the Match steered a right footed shot into the keepers' left hand corner to score his second goal.


Etienne Mermer took advantage of a demoralised Westtan side to add a third goal in a perfect counter attack and sealed a victory for his side.
Tafea were by far the stronger side in the second half, as Mermer had few opportunities to increase the score.
"We were better in the second half but we wasted too many chances, We'll have to work on that" said Tafea coach Graham Demas after the game.
With two wins in two matches Tafea is leading the Super 5 Series with 6 points.

Yatel FC swept to a 3-0 victory over Erakor Golden Star on Saturday to move up to second place behind Tafea FC in the Super 5 Series
Yatel FC in their new uniform boosted their chances of chasing a place in the final of the Super 5 Series by seeing off an Erakor Golden Star side who weren't up to the challenge on the day after their decision to leave Yellou Robert, Ken Masauvakalo, Derek Malas and Jeffy Jessy out of this game.
From a bruising start, both sides had chances to open the scoring, but Erakor GS suffered a blow when defender and captain Samuel Kalros was sent-off for an altercation with his opponent Ricky Tari.
Peter Lency scored the opener in the 23th minute when he headed a free kick from Kaisson Maki and gave no chance to Erakor goalkeeper Ernst Bong.
At the beginning of the second half Yatel FC increased their lead in the first minute when Ricky Tari easily beat Ernst Bong with a left footer after receiving a cross ball from the unstoppable Remy Kency on the left side of the field.
Roger Joe finally scored a first rate free kick in 66th minute of the game to seal a deserved win for Yatel FC.
Erakor Golden Star suffered a setback after a good start in this super 5 series when they easily beat Westtan Verts 7-1 and displayed a good game against Tafea FC last week.

Erakor GS showed good fighting spirit but it was not sufficient to win this game.
Yatel FC is now in second place and are now looking in front of them for a final challenge with Tafea FC.
" I have to compliment my players as they played a great game, we've been making progress and our results are now backing that up. We need to finish this Super 5 Series strongly and reward our supporters with a place in the final " said Sammy Brown the Assistant Manager of Yatel Football Club after the game.
PVFA SUPER 5 SERIES - STANDINGS

Position

TEAMS

PTS

G.P

W

D

L

F

G+

G-

G.A

1

TAFEA FC

6

2

2

0

0

0

4

0

4

2

YATEL FC

4

2

1

1

0

0

5

2

3

3

ERAKOR G.S FC

3

3

1

0

2

0

7

5

2

4

TUPUJI IMERE FC

1

1

0

1

0

0

2

2

0

5

WESTTAN VERTS FC

0

2

0

0

2

0

1

10

-9