O-LEAGUE FINAL PREVIEW: WAITAKERE UNITED vs KOSSA FC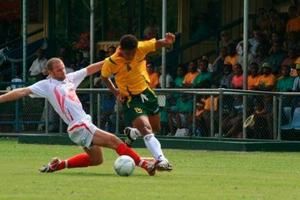 AUCKLAND
- On Sunday the 2007/08 season of the Oceania Football Confederation (OFC) O-League will draw to a close when current champions Waitakere United take on Kossa FC in the 2nd Leg Final at Trusts Stadium in Henderson.
The competition has grown from the OFC Club Championship in Fiji in 1999 which incorporated 10 teams over 10 days and attracted 1000 spectators, to this season's format, where six teams have played games over five countries in front of an estimated 80,000 fans.
The 2nd Leg final will mark the 14th game of this O-League season and the battle to reach the FIFA Club World Cup in Japan in December is as hot as ever with Kossa holding a 3-1 advantage from the first leg.
Waitakere United Head Coach Chris Milicich will be relying on his side's professionalism and big game mentality to turn the tie around with eight of his squad members boasting professional football experience.
"We'll get onto the front foot as quick as we can, but will be dictated to slightly by the way they set up," Milicich said.
Waitakere know that conceding an early goal would mean needing to score four in order to win the game.
"If you chase something really hard from the outset you can open yourself up to the counterattack but we'll definitely be out to control the game early."
Kossa will bring a solid pedigree of international experience over from Honiara with six Solomon Island Internationals (John Morgan, Samson Takayama, James Naka, Terry Oiaka, Gideon Omokirio, Severino Aefi) and one from PNG (Reginald Davani).
Coach Jacob Moli will be looking to Honiara hero James Naka – who was inspirational in their first leg win- to lead the attack again, and the 24 year old has a chance to make a name for himself on the biggest stage in the history of Solomon Island club football.
The 2008 O-League Final [2nd Leg] will be broadcast live on television, radio and the internet.
Match Details 2008 O-League Final [2nd Leg]
Date: Sunday, 11 May 2008
Match: Waitakere United (NZL) vs. Kossa FC (SOL)
Venue: Auckland, New Zealand
Stadium: Douglas Field, The Trusts Stadium
Kick Off: 14H00 (NZT) 13H00 (SOLT)
Squads:
Waitakere: 1. Richard GILLESPIE; 2. Jonathan PERRY; 5. Danny HAY; 6. Darren BAZELY; 7. Jason HAYNE; 8. Commins MENAPI; 9. Benjamin TOTORI; 10. Allen PEARCE; 11. Neil SYKES; 13. Danijel KOPRIVCIC; 14. Hoani EDWARDS; 15. Christopher BALE; 16. Neil EMBLEN; 17. Jake BUTLER; 20. Jason ROWLEY; 21. Graham PEARCE; 22. Simon EADDY (GK); 24. Tim MYERS
Coach: Chris Milicich (NZL)
Kossa: 1. John MORGAN (GK); 3. Sam MAENA; 4. Tome FAISI; 5. Samson TAKAYAMA; 6. Mahlon MAEMANIA; 8. Philip ASHLEY; 9. Samson WAAHERO; 10. Francis NEE; 11. Joe LUWI; 12. Roy ENORI; 13. James NAKA; 14. Terry OIAKA; 15. Seni NGAVA; 16. Paul WALE; 17. Gideon OMOKIRIO; 19. Reginald DAVANI; 20. Willie SADE; 21. Severino AEFI;
Coach: Jacob MOLI (SOL)
Referee: Benjamin WILLIAMS (AUS)
Assistant Referee 1: Tevita MAKASINI (TON)
Assistant Referee 2: Michael JOSEPH (VAN)
Fourth Official: Norbert HAUTUA (TAH)