WAITAKERE UNITED vs KOSSA FC : 5-0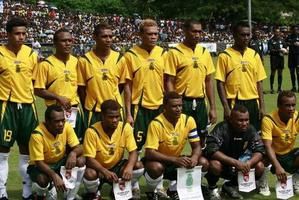 " Waitakere to the FIFA Club World Cup "

Welcome to Trusts Stadium in Henderson where Waitakere United are set to meet Kossa FC in the 2nd Leg of the OFC O-League Final.
With Kossa holding a 3-1 lead from the first leg, this match is sure to be full of goals and action as both sides fight for the chance to represent OFC at the FIFA Club World Cup in Japan.
The big pre match news is the inclusion of former All White Danny Hay in the Waitakere United starting eleven.
Hay was expected to miss the match but has been delcared fit after an intense pre match fitness test.
LIVE UPDATES:
5- The match is off to a lively start with Waitakere dominating the early stages
8 - GOAL- 1-0 WAITAKERE - Totori wriggled through the Kossa box, rode a challenge slipped it under the keeper
25 - GOAL 2-0 - Neil Emblen climbs highest from a Neil Sykes corner to head home at the far post
Half time, 2-0 for Waitakere.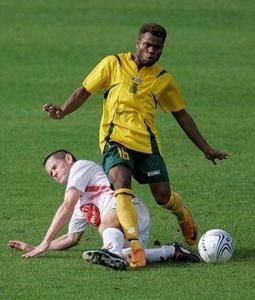 Waitakere are looking dangerous everytime they go forward, Totori, Pearce and Koprivcic are looking lively.
Kossa are struggling to adapt to the new environment. There was a short shower prior to kick off and the field has become very slick. Kossa need to keep better possesion of the ball if they are to pose a threat to this Waitakere defence in the second half.
50' Waitakere have a series of attacks with Jason Hayne, Benjamin Totori and Daniel Koprivcic all going close.
62' Substitution for Waitakere United Darren Bazeley replaces Danny Hay
64' Substitution for Waitakere United as Commins Menapi replaces Benjamin Totori
72' GOAL - WAITAKERE 3-0 - Allan Pearce rises highest from a Neil Sykes corner to turn in a clever header inside the 6 yard box
74' Substitution for Kossa Paul Wale replaced by Willie Sade
77' - GOAL - Waitakere 4-0 - Allan Pearce gets his second after volleying a Jason Hayne cross into the back of the Kossa net
85 - GOAL - Waitakere 5-0 - Jake Butler makes it five with a measured side footed finish from outside the box into the corner of the net.
90'- Full Time - Waitakere are through to the FIFA Club World Cup with a convincing 5-0 win in slippery conditions.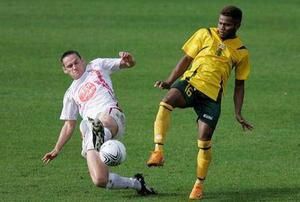 Squads:
WAI: 1. Richard GILLESPIE; 2. Jonathan PERRY; 5. Danny HAY; 7. Jason HAYNE; 9. Benjamin TOTORI; 10. Allen PEARCE; 11.Neil SYKES; 13. Danijel KOPRIVCIC; 15. Christopher BALE; 16. Neil EMBLEN; 17. Jake BUTLER;
COACH: Chris MILICICH (NZL)
SUBS: 6. Darren BAZELEY; 8. Commins MENAPI; 20. Jason ROWLEY; 21. Graham PEARCE; 22. Simon EADDY (RGK); 24. Tim MYERS;
Absent: 14. Hoani Edwards;
KOSS: 4. Tome FAISI; 5. Samson TAKAYAMA; 6. Mahlon MAEMANIA; 10. Franco NEE; 11. Joe LUWI; 13. James NAKA; 15. Seni NGAVA; 16. Paul WALE; 17. Gideon OMOKIRIO; 19. Reginald DAVANI; 21. Severino AEFI (GK)
COACH: Jacob MOLI;
SUBS: 3. Sam MAENA; 8. Phillip ASHLEY; 9. Samson WAAHERO; 12. Roy ENORI; 14. Terry OIAKA; 20. Willie SADE;
Referee: Benjamin WILLIAMS (AUS)
Assistant Referee 1: Tevita MAKASINI (TON)
Assistant Referee 2: Michael JOSEPH (VAN)
Fourth Official: Norbert HAUATA (TAH)