FRANCE 98' AND OFC YOUTH MEET AT TJIBAOU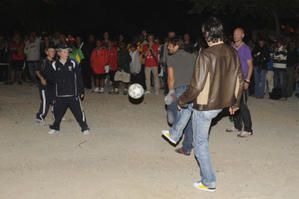 For most aspiring footballers, playing in a five-a-side match with some of the biggest names in world football is the making of a wild imagination and a beautiful dream.
That dream became a reality today for a few lucky participants of the OFC Youth festival who were chosen to take to the field alongside household names such as Christian Karembeau, Robert Pires, Bixente Lizarazu, Frank Lebouf, Pascall Vahirua and goalkeeper Lionel Charbonner in an impromptu match at the Tjibaou Cultural Centre in Noumea.
The five-a-side match was the climax in a day full of culture and learning for the 280 OFC Youth festival participants from nine different countries
The day started at 8.30am when the busload of kids arrived at the Ligue de Tennis du Ouen centre in Noumea.
Here the OFC party was welcomed by the local kids from the area who organised a ceremony in which they exchanged gifts, songs, speeches and cultural welcomes.
After a short break the group made its way to the Tjibaou Centre where a 45 minute tour of the premises served as a precursor to the arrival of the World Cup Winning France 98' team.
The champions were met with a tribal dance from the native welcoming party before they congregated around the huts on the outskirts of the centre where speeches were made by Christian Karembeu and Coach Aime Jacquet.
Then it was time to play and the players embraced the opportunity of mixing it with kids from all over OFC in a fun fuelled 15 minute game.
World Cup winning French Coach Aime Jacquet got into the spirit of things with some coaching tips for the youngsters via an enthuisastic display on the microphone.
The offical draw of the tournament was then read out for the eager young players who will look to replicate their favourite world cup stars tomorrow at Stade Ponte Cost.
Day one of the OFC Youth tournament kicks off at 10.00am tomorrow morning and the final will be played as a curtain raiser to the Christian Karembeu vs France '98 Jubilee Match on Saturday.