IMAKI lost against Flying arrows BA (0-0, penaltries 0 - 2) !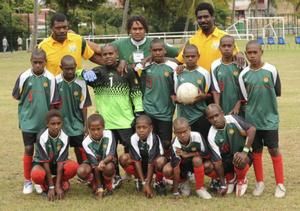 After the match between Abuanga and Erakor for the Fifth place, win by Erakor after the penalties, the semi-final were played with Capital Wellington against Auckland, and Imaki against Flying Arrows Ba (Fidji).
Capital win 2-0n, and flying Arrows Ba 0-0, 2-0 after penalties.
To note that the teams of Abuanga and Erakor will go on saturday to the inauguration of the Academy of Païta, and will do some technical exercices on the artificial pitch.
tomorrow the final will be played at Numa Daly, just before the Jubille of Christian Karembeu with France 98. all the teams will participate to the Jubilee.
congratulations to Imaki, which will play the 3/4 place tomorrow.