BA HEAD TO FRANCE AFTER WINNING YOUTH FESTIVAL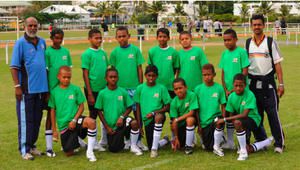 Flying Arrows Ba will represent Oceania at the Danon Nations Cup in France after defeating Auckland FC 2-0 in the final of the OFC Youth Festival at Stade Pentecost today.
Original plans to play the top four matches as curtain raisers to the Christian Karembeu Jubilee match were scrapped after concerns were raised over the potential damage to the pitch following a night of heavy rain.
But that didn't dement the enthusiasm and spirit of the teams from New Zealand, Vanuatu and Fiji as they shared a day which will live long in their memories.
The final was watched by a packed field of both festival participant and fans and the players didn't disappoint with an intense physical encounter between the two top teams in the tournament.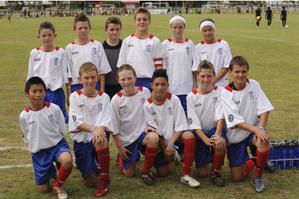 The final was played at a frenetic pace with both sets of management staff biting their nails as the match headed into the second half.
Ba struck the decisive blow 5 minutes into the second half when they were first to react to a ball bouncing off the crossbar and turned the ball home with the goalkeeper stranded.
They sowed up the championship with a second goal two minutes from time.

The final whistle brought emotional scenes from the Ba party as players and coaches embraced in celebrations which seemed like a dream at the beginning of the tournament.
They can now start planning a trip to Paris in September where they will be competing with teams from all over the world.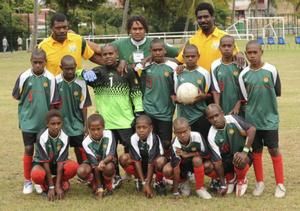 In the third and fourth play-off Imaki (VAN) overcame Capital Wellington (NZL) 3-1 on penalties after the scores were locked 1-1 at full time.
The 280 players involved with the OFC youth festival will tonight get the chance to watch their heroes including Zinedine Zidane, Christian Karembeu, Robert Pires and Laurent Blanc put on a master class in the game as they represent France '98 in the Jubilee match.
Final Positions:
20th - Ecole Isidore (NCL)
19th - Ecole de Taremen (NCL)
18th - Ecole de Wala (NCL)
17th - Hienghene Sport (NCL)
16th - Nauti School (TUV)
15th -Port Moresby (PNG)
14th -Qanono Sport (NCL)
13th -Tarawa FC (KIR)
12th - AS Temanava (TAH)
11th -AS Magenta (NCL)
10th - Tenakonga (SOL)
9th - Florence Young (SOL)
8th -Waikato (NZL)
7th -Wabag (PNG)
6th -Erakor (VAN)
5th -Abuanga(Van)
4th: Capital (NZL)
3rd: Imaki (VAN)
2nd: Auckland (NZL)
1st: Ba (FIJ)