VANUATU HERO POIDA REFLECTS ON ZIDANE CHALLENGE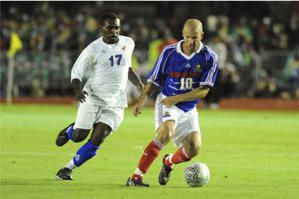 NOUMEA
- "I have only dreamed of a moment like this - it will live with me forever". Those were the words of Vanuatu international Moise Poida after playing the Karembeu Jubilee match at Stade Numa Daly last night playing against an array of superstars from the "Les Bleus" heroes of the FIFA World Cup France 1998 (photo Marc Peretic-Wilson).
"It was good to be alongside players like Zidane - I was very happy my family and all of Vanuatu will be happy," Poida told www.oceaniafootball.com
Vanuatu Football Federation (VFF) President Lambert Maltock said Moise had helped galvanise the country from grassroots level through to the top tier of the world game.
"I was very emotional to see Moise out there. Everybody knows who Moise is all the kids love him and one day he could be the Vanuatu national team coach. It was a big thrill for everybody to see a Vanuatu player on the same pitch as Zidane, Karembeu, Lebeouf," Maltock said.
Poida was not disappointed to lose despite the unbalanced final result of 2-8.
"The thrill for me is knowing our U-12 Vanuatu players can see that a Ni-Vanuatu player can play on the same stage as football legends from the top of the game," Poida said.
John Panu of Papua New Guinea, Gideon Omokirio of Solomon Islands, Fred de Jong and Vaughan Covney of New Zealand and South African Auckland City FC striker Keryn Jordan represented Oceania in a largely New Caledonian constructed side named with sentimentality in mind against one of football's greatest ever international teams.
"It would be great to see more of these types of matches for Oceania selection teams against the best teams around," Maltock said.
Christian Karembeu paid homage to his Pacific-roots by playing the final 20 minutes of the match for 'Team Karembeu' missing one penalty before scoring another generously given spot-kick.
"I am happy, so happy. I thank everyone who made Moise Poida's selection possible - for us it is a dream come true," Maltock said.