VANUATU SEND WARNING TO THE PACK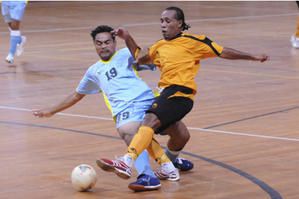 Vanuatu
made their presence known at the OFC Futsal Championships with a smashing 6-0 win over Tuvalu in the second game of match day two.
Jack Vira Ala opened the scoring in the second minute,added another just after halftime and one before the final whistle to complete his hatrick and a man of the match performance for Vanuatu.
Terry Quare and Derek Malas also added to the scoreline which would make most coaches sleep easy at night.
But coach Marcellino Barthelemy was not impressed with the number of opportunities his side wasted in front of goal.
"I expect more than that. In the first half we panicked in front of goal. I gave the team some strong comment at half time and rebuilt their confidence and we were better in the second half."
But our finishing and some of our posessional play still needs to improve for our next match."
Tuvalu coach Sami Neemia was optimistic about his sides loss in their first ever appearance at a Futsal tournament.
"I thought we played well, and it was a good performance for our first game. We will learn a lot from this and I don't think we will play a harder team in the tournament. The boys played their hearts out and thats all I can ask of them."
Neemia was especially proud if his sides first half performance after they went in at halftime trailing by a single goal.
"They told me their bodies were numb from playing on such a special occasion. In the second half they calmed down a bit. In the next game we will be ready and I am looking forward to it."
Neemia praised goalkeeper Sapepe Tailolo as his best player, after a stellar performance in the net.
"He made so many great saves for us tonight but he is also a great outfield player, which you will see later in the tournament."
(Photo by Marc Peretic Wilson)
TUV: 5.Mau PENISULA; 10.
Semalie FOTU; 8. Peniuna KAITU; 6. Paitela KELEMENE; 1. Sopepe TAILOLO (GK);

SUBS: 2. Felo FEOTO; 3. Tioti Maati TOAFA; 9.
Starchel SOLOSENI; 17. Neemia ONOSEMU; 19. Mahanga TEIAPUTI; 11. Imo FIAMALUA; 21.
Maio ETIMANI;
Coach: Sami NEEMIA (TUV)
VAN: 1. Chikau MANSALE (GK); 3.
Ben EDWARD; 6. Derek MALAS; 8. Louis DOMINIQUE; 10. Jack Vira ALA;
SUBS: 2. Terry QUARE; 4. Lui SIFAS; 5. Fedy VAVA; 7.
Ben HUNGAI; 9. Siardon Mera TALKANAMAL; 11.
Saen Wowut FANAI; 22. Daniel MANSALE;
Coach: Marcellino BARTHELEMY (VAN)
Referee: Jamie Cross (NZL)
2nd Referee: Teihotu TAEREA (TAH)
3rd Referee: Francois TROLLIARD (NCL)
Time Keeper: Stephan PARAGE (NCL)
Referee's Assessor: Chandra SEGRAN (FIJ)