MELANESIAN MAGIC ON DAY ONE OF FUTSAL CHAMPIONSHIP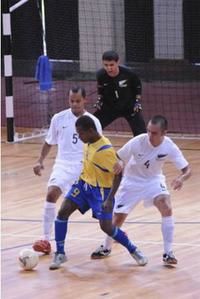 Solomon Islands, Vanuatu and Fiji all got off to perfect starts on Match Day One of the Oceania Football Confederation (OFC) Futsal Championship today at the Vodafone Arena in Suva, Fiji.
The three Melanesian teams are now favourites to represent OFC at the FIFA Futsal World Cup in Brazil in September after combining for a total of 15 goals in their three respective games.
The tournaments opening match proved a real crowd pleaser as hundreds of Solomon Island fans packed into the indoor stadium to show their support for Victor Wai'ias young squad.
The Solomon boys didn't disappoint and bounced out to a five goal lead with goals to Elliot Ragamo (2), Micah Lea'alafa, Maffat Sikwa'ae and Jenan Kapu.
New Zealand scored a consolation goal with one minute left on the clock through Bakr Al Saudi but it was not nearly enough to stop the Solomon side establishing themselves as tournament favourites.
Vanuatu fought through some stubborn first half Tuvalu defending to increase their one goal half time lead to six at the final whistle.
Jack Vira Ala was the star of the show finishing off a classy hat trick after goals from Ben Edward and Derek Malas.
In the final game of the night Kamal Hassan stole the show when his two late goals propelled Fiji to a well deserved 4-2 victory over New Caledonia.
Rosso Alexandre's opener for New Caledonia was cancelled out by a Sandeep Sanjesh Nair screamer which shook the gathered crowd of over 1000.
Fiji went 2-1 up through Nayzal Siga Ali before New Caledonia equalized again three minutes from time through Hnailolo Albert.
Hassan then scored two goals in the space of a minute to earn Fiji a very valuable three points and please the local faithful.Match Day Two kicks off tomorrow at 16H00 (local time) when New Zealand meets Vanuatu.
Match Day 1 – June 8 2008

Kick Off

Team A

Team B

Result

4.00pm

Solomon Islands

New Zealand

5-1

6.00pm

Tuvalu

Vanuatu

0-6

8.00pm

Fiji

New Caledonia

4-2

Bye

Tahiti

Match Day 2 – June 9 2008

4.00pm

New Zealand

Vanuatu

6.00pm

Solomon Islands

New Caledonia

8.00pm

Tuvalu

Tahiti

Bye

Fiji

Match Day 3 – June 10 2008

4.00pm

Vanuatu

New Caledonia

6.00pm

New Zealand

Tahiti

8.00pm

Solomon Islands

Fiji

Bye

Tuvalu

Match Day 4 – June 11 2008

4.00pm

New Caledonia

Tahiti

6.00pm

Vanuatu

Fiji

8.00pm

New Zealand

Tuvalu

Bye

Solomon Islands

Match Day 5 – June 12 2008

4.00pm

Tahiti

Fiji

6.00pm

New Caledonia

Tuvalu

8.00pm

Vanuatu

Solomon islands

Bye

New Zealand

Match Day 6 – June 13 2008

4.00pm

Fiji

Tuvalu

6.00pm

Tahiti

Solomon Islands

8.00pm

New Caledonia

New Zealand

Bye

Vanuatu

Match Day 7 – June 14 2008

1.00pm

Tuvalu

Solomon Islands

3.00pm

Fiji

New Zealand

5.00pm

Tahiti

Vanuatu

Bye

New Caledonia