Vanuatu beat New Caledonia 11 - 1, it's always possible !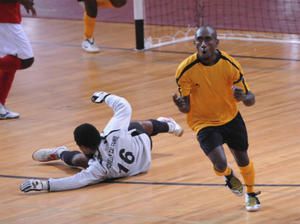 Vanuatu
smashed their way to the largest win of the OFC Futsal Championships in Fiji, beating New Caledonia 11-1in the opening game of match day three.
Vanuatu coach Marcellino Barthelemy had asked for more clinical finishing from his players following a host of missed chances in their opening two games against Tuvalu and New Zealand.
His request was met by five different players who all found the score sheet for Vanuatu starting with standout performer Derek Malas

- 40 seconds into the match.
Goals soon followed to Siardon Mera Talkanamal (2), Jack Vira Ala (4), Louis Dominique (2), Derek Malas, and Sean Wowut Fanai.
New Caledonia managed a consolation goal 15 minutes into the first half but it was a day to forget for Coach Eric Michalak and his squad as nothing fell their way.
Vanuatu looked a re-energized, combative unit and bounced back from yesterday's heartbreaking last minute loss to New Zealand in the best possible way.
Coach Marcellino Barthelemy re-affirmed his statement yesterday that their tournament is not over.
"I expect more every day and I know that we can still play better than that," he said.
"I was really happy with the finishing today and I thought we took all our opportunities well."
"But I know we can still raise it a level, specifically defensively. But I am very happy."
VAN: 2. Terry QUARE; 3. Ben EDWARD; 5. Fedy VAVA; 6. Derek MALAS; 22. Daniel MANSALE (GK);
SUBS:; 4. Lui SIFAS; 7. Ben HUNGAI; 8.
Louis DOMINIQUE; 9. Siardon Mera TALKANAMAL; 10.
Jack Vira ALA; 11. Saen Wowut FANAI; 1. Chikau MANSALE;
Coach: Marcellino BARTHELEMY (VAN)
Goals: 6.
Derek MALAS; 9. Siardon Mera TALKANAMAL; 10.
Jack Vira ALA; 8. Louis DOMINIQUE 10', 12'; 10. Jack Vira ALA;
NCL: 3. Alexandre ROSSO; 4. Albert HNAILOLO; 7. EDOUARD MURACCIOLI; 8. Yvan POUROUORO; 16. Ronald GAYON (RGK);

SUBS: 1.
Ronan EUZEN (GK); 2.
Jean Phillipe WEMAMA; 5. Jerry IARUEL; 6. Benoit MOGLIA; 9. Yoan GARIN; 10. Marcias GINO RENE; 11. Stevens GUILLEMIN; Coach: Michalak ERIC (NCL);
Coach: Michalak ERIC (NCL)
Goals: 8. Yvan POUROUORO 15