SOLOMONS, TAHITI AND VANUATU SCORE EXCITING WINS ON MATCH DAY THREE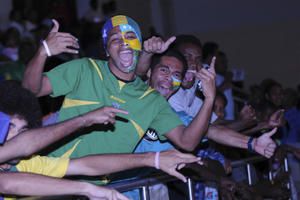 The Solomon Islands, Tahiti and Vanuatu all scored impressive wins on Match Day Three of the OFC Futsal Championships at the Vodafone Arena in Suva, Fiji yesterday.
Vanuatu responded to their heartbreaking last minute loss to New Zealand last night with a comprehensive 11-1 victory over New Caledonia, Tahiti scored an improbable come-from-behind 3-2 victory over New Zealand and the Solomon Islands beat out Fiji in an exciting 11-6 goal fest.
The Solomon Islands lead the table on 9 points while Vanuatu and Tahiti are both just three points behind.
There were 34 goals scored on Match Day Three of the tournament and the boisterous crowd of over 1500 helped make the day the most exciting so far.
Derek Malas opened the days scoring with his first goal of the day coming just one minute into the opening game against New Caledonia and the scoring didn't stop until the 37th minute when Jack Vira Ala converted his fourth and Vanuatu's eleventh.
Goals in between fell to Siardon Mera Talkanamal (2), Jack Vira Ala (4), Louis Dominique (2), Malas, and Sean Wowut Fanai. New Caledonia scored a consolation goal through Yvon Pourouoro.
In game two Tahiti produced the most memorable finish to a game so far when Michel Maihuri scored his second goal of the night with just nine seconds remaining on the clock to propel Tahiti to a 3-2 win over New Zealand.
New Zealand were leading 2-1 with one minute and forty seconds to play after Joshua Martin and Marvin Eakin cancelled out Romeo Patira's early equalizer.
But it was Tahiti who were celebrating after two goals in the space of 90 seconds earned Tahiti their second successive win of the championship to earn them a spot in second place.
In the days final game the Solomon Islands scored a comprehensive victory over Fiji after the two sides were locked at 4-4 after an exhilarating first half.
The Solomons were able to turn it up a gear in the second half and their eleven goals cemented their place at the top of the table.
Goals for Solomon were scored by Micah Lea'alafa (4), James Egata (2), Francis Lafai, Elliot Ragomo (2); Jack Wetney and Jenan Kapu.
Kamal Hassan scored a hatrick for Fiji alongside two goals from Mira Sahib and one from Alvin Avinesh.