Vanuatu beat Fidji 5 - 2, Solomon Islands for the big match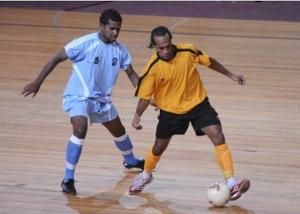 Vanuatu
moved into first place – equal in points with the Solomon Islands – after beating Fiji 5-2 in the second game of Match Day Four in the OFC Futsal Championships in Fiji.
The result sets up an epic top of the table clash tomorrow night when Vanuatu meet the Solomon Islands with a spot at the FIFA Futsal World Cup in Brazil on the line.
Vanuatu took the early lead after two minutes when Jack Viro Ala penetrated the Fijian backline before slotting the ball under Fiji goalkeeper Nishad Wasim Ali.
They added to their lead in the twelth minute when Derek Malas converted the first of his two goals on the evening.
Fiji looked like they were set to stage a comeback when Sandeep Sanjesh Nair drew one back for the hosts but it only served to inspire Vanuatu into pushing more numbers forward and goals to Louis Dominique, Ala and Malas sealed the win.
Assis Chand scored a late consolation goal for Fiji with three minutes left to play.
Vanuatu Coach Marcellino Barthelemy was reluctant to enjoy the win, instead focusing already on tomorrow night's match with the Solomon's.
"The match tomorrow night is the final for me and we still have a lot more work to do if we are to beat this Solomon side. We missed too many opportunities tonight and did not reach the targets that I set for us."
Fijian coach Imtiaz Khan said that his side will now be playing for pride in the remainder of their games.
"Today we had only eight players who were fit because of muscle injuries from fatigue. All my players played in the Fiji FACT tournament and it's simply too many games too soon."
"But in saying that we missed so many chances tonight that we could very well have won."
"I don't think Vanuatu were a better team than us but because of our tired mistakes and lack of finishing, they looked better."
VAN: 1. Chikau MANSALE; 2. Terry QUARE; 3. Ben EDWARD; 6.
Derek MALAS; 10. Jack Vira ALA;
SUBS: 4.
Lui SIFAS; 5. Fedy VAVA; 7. Ben HUNGAI; 8. Louis DOMINIQUE; 9.
Siardon Mera TALKANAMAL; 11. Saen Wowut FANAI; 22. Daniel MANSALE (GK);
Coach: Marcellino BARTHELEMY (VAN)
Goals: 10. Jack Vira ALA 2', 26'; 6.
Derek MALAS 12', 32'; 8. Louis DOMINIQUE 26';

FIJ: 3. Sandeep Sanjesh NAIR; 4. Alvin AVINESH; 6. Assis CHAND; 9. Kamal HASSAN; 12. Nishad Wasim ALI (RGK)
SUBS: 1.
Azmat BEGG (GK); 2. Mira SAHIB; 5.
Nayzal Siga Ali; 7. Vikash PRASAD; 8. Muni Arvindra NAIDU;10. Dinesh Chand MUDALIAR; 11. Imtiaz BEGG; Coach: Imtiaz KHAN (FIJ)
Coach: Imtiaz KHAN (FIJ)
Goals: 3.
Sandeep Sanjesh NAIR; 6. Assis CHAND;