VANUATU AND SOLOMONS SET FOR TOP OF TABLE CLASH - FR and ENG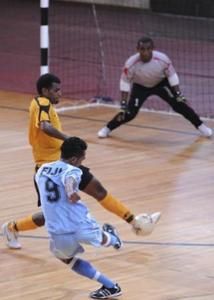 OFC MEDIA - VANUATU AND SOLOMONS SET FOR TOP OF TABLE CLASH
Vanuatu finished Match Day Four of the Oceania Football Confederation (OFC) Futsal Championship in first place – equal in points with the Solomon Islands – after beating Fiji 5-2 at the Vodafone Arena in Suva today.
The result sets up an exciting top of the table clash tomorrow night where the winner will be firm favourites to advance to the FIFA Futsal World Cup in Brazil in September.
In other matches New Caledonia and Tahiti fought out a 2-2 draw while New Zealand beat Tuvalu 13-1in the last match of the night.
Solomon Islands and Vanuatu both sit two points clear of third placed Tahiti who fought back from a two goal deficit to earn a point in the opening match of the day.
New Caledonia opened the scoring in the third minute of the match when Yvan Pourouoro converted from close range after a swift New Caledonia counter attack.
Jerry Iaruel increased the lead for New Caledonia two minutes into the second half and it looked as if they were set to collect their first win of the tournament.
But the Tahitian spirit should never be counted out and goals to Yvan Pourouoro and Riaria kept alive Tahiti's shot at the championship.
For Vanuatu it was Jack Viro Ala who opened the scoring, penetrating the Fijian backline before slotting the ball under Fiji goalkeeper Nishad Wasim Ali.
They added to their lead in the twelfth minute when Derek Malas converted the first of his two goals on the evening.
Fiji looked like they were set to stage a comeback when Sandeep Sanjesh Nair drew one back for the hosts but it only served to inspire Vanuatu into pushing more numbers forward and goals to Louis Dominique, Ala and Malas sealed the win.
Assis Chand scored a late consolation goal for Fiji with three minutes left to play.
New Zealand received a much needed moral booster after their heartbreaking 3-2 loss to Tahiti last night and got it care of a 13-1 victory over Tuvalu.
Kiwi captain Bakr Al Saudi went on a scoring rampage opening his tournament account in the second minute and closing it – seven goals later – in the 40th minute.
It was the most comprehensive win of the tournament so far and six New Zealand players found the scoresheet including Ouadhah Ragued, Marvin Eakins, Gregory O'Connor, Yukin Naidoo and Andrew Gwilliam.
Mahanga Teiaputi scored a consolation goal for Tuvalu in the 35th minute much to the crowds delight and despite their tiring legs the newcomers to the tournament never gave up.


Vanuatu a fini la quatrième journée du championnat de Futsal de l'OFC à égalité de points avec les îles Salomon –Après avoir battu Fiji 5-2 à la Vodafone Arena de Suva aujourd'hui.
Ce résultat laisse entrevoir une rencontre déterminante demain soir avec pour enjeu la place qualificative pour la coupe du monde FIFA de Futsal au Brésil en septembre.
Dans les autres matchs, la Nouvelle-Calédonie et le Tahiti se sont affronté avec un résultat nul 2-2 tandis que la nouvelle Zélande battait très facilement Tuvalu 13-1dansle dernier match de la soirée.
Les îles Salomon et le Vanuatu ont neuf points, et comptent deux points d'avance sur le troisième Tahiti, qui a du remonter deux buts contre la Nouvelle Calédonie dans le match d'ouverture.
La Nouvelle-Calédonie a ouvert la marque dès la troisième minute quand Yvan Pourouoro a converti dans un angle fermé une attaque rapide de son équipe.
Iaruel jerry a augmenté le score pour la Nouvelle-Calédonie deux minutes après la reprise de la seconde mi-temps, donnant à la Nouvelle Calédonie l'espoir de gagner enfin sa première victoire du tournoi.
Mais c'était sans compter sur l'état d'esprit des Tahitiens, qui revinrent au score par des buts d'Yvan Pourouoro et de Jimmy Riaria.
Pour le Vanuatu, C'est Jack Vira ala qui a ouvert le marquage, pénétrant la ligne arrière des Fidjiens glisser la balle sous le gardien de but Nishad Wasim Ali.
Les Ni-vans ont conforté le score à la douzième minute par Derek Malas qui a converti le premier de ses deux buts de la soirée.
Le Fiji s'est remis en selle par un but de Sandeep Sanjesh Nair, mais ce but a inspiré le Vanuatu qui se ms à pousser et des buts de Louis Dominique, de Jackk Vira Ala et Derek Malas scellait la victoire.
Assis Chand marqua un but en guise de consolation pour Fiji à trois minutes du coup de sifflet final.
La Nouvelle Zélande a retrouvé le moral après leur cruelle défaite 3-2 contre Tahiti la veille et a obtenu une large victoire 13-1 contre le Tuvalu.
Le capitaine Bakr Al Saudi sait particulièrement distingué en marquant dès la seconde minute, et en clôturant le score, 7 buts plus tard, à la quarantième minute.
C'était la victoire la plus large du tournoi jusqu'ici, avec six joueurs différents de Nouvelle Zélande qui ont trouvé le chemin du filet : Ouadhah Ragued, Marvin Eakins, Gregory O'Connor, Yukin Naidoo et Andrew Gwilliam.
Mahanga Teiaputi a marqué un but de consolation pour Tuvalu dans la 35ième minute devant une foule enchantée, et en dépit de leurs jambes lourdes, les nouveaux venus dans ce tournoi ont combattus jusqu'au bout.
OFC FUTSAL CHAMPIONSHIP STANDINGS


| | | | | | | | | |
| --- | --- | --- | --- | --- | --- | --- | --- | --- |
| | PL | W | D | L | GF | GA | GD | PTS |
| SOL | 3 | 3 | 0 | 0 | 24 | 12 | +12 | 9 |
| VAN | 4 | 3 | 0 | 1 | 23 | 5 | +18 | 9 |
| TAH | 3 | 2 | 1 | 0 | 8 | 5 | +3 | 7 |
| NZL | 4 | 2 | 0 | 2 | 18 | 10 | +8 | 6 |
| FIJ | 3 | 1 | 0 | 2 | 12 | 18 | -6 | 3 |
| NCL | 4 | 0 | 1 | 3 | 10 | 25 | -15 | 1 |
| TUV | 3 | 0 | 0 | 3 | 2 | 22 | -20 | 0 |