CHAMPIONSHIP NOW THREE HORSE RACE - Eng & Fr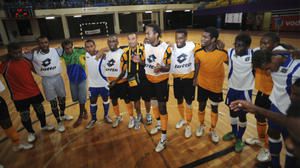 Vanuatu shot to the top of the Oceania Football Confederation (OFC) Futsal championship in Suva today with a thrilling 5-1 victory over former tournament leaders Solomon Islands.
New Caledonia also recorded their first win of the tournament downing Tuvalu 10-2 while Tahiti continued their impressive form with a comprehensive 9-2 win over Fiji.
The championship is now wide open with Vanuatu, Tahiti and Solomon Islands separated by just three points with two days left to play.
It sets up an exciting match day six where the focus will be on the top of table clash between Solomon Islands and Tahiti.
Vanuatu drew first blood in the 16th minute when Louis Dominique broke down the right and fired a hard right footed shot in off a defender.
After half time both teams came out firing and a series of missed chances for both teams had the 1500 strong crowd screaming in the aisles.
Vanuatu made it 2-0 in the 24th minute when Fedy Vava poked home from close range after a swift counter attack.
The loudest cheer of the night came when James Egeta pulled one back for the Solomon Islands three minutes later and the Solo fans sensed the possibility of a comeback.
But the joy was short lived as tournament top scorer Jack Vira Ala restored the two goal lead before two goals in two minutes from Dominique and Terry Quare killed the game off.
In the days first match Tahiti opened the scoring in the fifth minute when Tetuanui scored the first goal of his brace on the evening.
Matana Bea 2 and Iorama Bea scored three goals in the space of ten minutes to kill the game off and propel Tahiti to their third win of the tournament.
Two goals to Jimmy Riaria and a goal a-piece to Usiera Pukoki and Lysis Tauha completed the scoring for Tahiti while Fiji scored two second half consolation goals through Nayzal Siga Ali and Assis Chand.
Six different players found the back of the net for New Caledonia in their 6-1 win with goal to Alexandre Rosso 2, Albert Hnailolo 2, Stevens Guillemin, Benoit Moglia 2, Gino Rene Marcias and Yvan Pourouoro.
Stardel Soloseni and Paitela Kelemene scored the goals for Tuvalu and it was just reward for a tremendous spirit and work ethic by which they never gave up.


Le Vanuatu a pris la tête du championnat OFC de Futsal à suva lors de la cinquième journée, avec le 5 à & réalisé contre le précédent leader, les Iles Salomon.
La Nouvelle-Calédonie a également enregistré sa première victoire du tournoi en croquant Tuvalu 10-2 tandis que Tahiti confirmait leur grande forme avec une nette victoire 9-2 contre Fiji.
Le championnat est grand ouvert avec le Vanuatu, Tahiti et les îles Salomon séparées par trois points à deux journées de la fin.
Il se prépare une sixième journée passionnante avec un match de tête entre les Iles Salomon et Tahiti.
Vanuatu a ouvert le score à la 16ème minute par Louis Dominique, son tir puissant du droit a été contré par le dos du défenseur pour le premier but contre son camp du tournoi.
Après la mi-temps les deux équipes ont raté de nombreuses occasions qui ont fait vibrer et rugir les 1500 supporters présents.
Vanuatu a fait le break 2-0 à la 24ème minute quand Fedy Vava a conclu dans un angle fermé une rapide contre-attaque.
L'acclamation la plus forte de la nuit est venue quand James Egeta a réduit le score pour les îles Salomon trois minutes plus tard et les fans "solos" ont cru alors à un possible retour.
Mais la joie était de courte durée, le top scorer du tournoi Jack Vire Ala puis deux buts en deux minutes de Louis Dominique et Terry Quare ont tué le match.
Dans le premier match du jour, Tahiti a ouvert la marque à la cinquième minute par Tetuanui.
Matana Bea par deux fois et Iorama Bea ont marqué 3 buts en moins de dix minutes, tuant le match et propulsant Tahiti à leur troisième victoire du tournoi.
Deux buts de Jimmy Riaria et un but de Usiera Pukoki et de lysis Tauha ont complété la marque pour Tahiti, Fiji réduisant le score deux fois, par Nayzal Siga Ali et Assis Chand.
Six joueurs différents ont trouvé le chemin du filet pour la Nouvelle-Calédonie avec une victoire 10-2 sur Tuvalu avec des buts de Alexandre Rosso (2), Albert Hnailolo (2), Stevens Guillemin, Benoit Moglia 2, Gino Rene Marcias et Yvan Pourouoro (2).
Stardel Soloseni et Paitela Kelemene ont marqué les buts pour Tuvalu, récompensant leur engagement et leur excellent état d'esprit.
OFC FUTSAL CHAMPIONSHIP STANDINGS
| | | | | | | | | |
| --- | --- | --- | --- | --- | --- | --- | --- | --- |
| | PL | W | D | L | GF | GA | GD | PTS |
| VAN | 5 | 4 | 0 | 1 | 28 | 6 | +22 | 12 |
| TAH | 4 | 3 | 1 | 0 | 17 | 7 | +10 | 10 |
| SOL | 4 | 3 | 0 | 1 | 25 | 17 | +8 | 9 |
| NZL | 4 | 2 | 0 | 2 | 18 | 10 | +8 | 6 |
| NCL | 5 | 1 | 1 | 3 | 20 | 27 | -7 | 4 |
| FIJ | 4 | 1 | 0 | 3 | 14 | 27 | -13 | 3 |
| TUV | 4 | 0 | 0 | 4 | 4 | 32 | -28 | 0 |