SOLOMON ISLANDS HEADING TO BRAZIL FOR FUTSAL WORLD CUP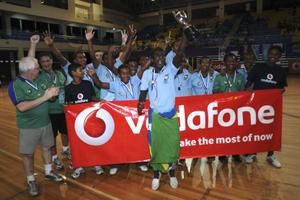 The Solomon Islands will represent the Oceania Football Confederation (OFC) at the FIFA Futsal World Cup in Brazil in September after winning the OFC/Vodafone Futsal Championship in Suva.
The Solomon's only needed three points from their final game against Tuvalu after Tahiti defeated Vanuatu 2-1 in the opening game of the last day.
They finished it off in style with a 12-0 win and earned a birth at their first ever FIFA Futsal World Cup.
Micah Lea'alafa led the way with four goals while Elliot Ragomo, Jack Wetney and Francis Lafai scored two apiece. James Egeta and Alfred Punguika completed the rout with late goals.
Tahiti leapfrogged Vanuatu into second place and the silver medal with another inspirational performance, coming from behind to snatch the win in the last minute.
The wild celebrations of the Tahitians were in sharp contrast to the tears of the Vanuatu side who narrowly missed out on their world cup dream.
Fedy Vava opened the scoring in the 5th minute for Vanuatu before Michael Mahuri equalised just before halftime. Matana Bea snuck the winner in the final minute of the match and sent the Tahitian party into a celebrating frenzy.
Fiji collected their third win in the final match of the tournament with a 3-1 victory over New Zealand.
Fiji opened the scoring in the 31st minute when the tournaments golden boot – Kamal Hassan potted his 14th goal of the tournament.
New Zealand equalized in the 37th minute when Joshua Martin found the net before Assis Chand grabbed two goals in the space of a minute to turn the game back in Fiji's favour. Muni Arvindra Naidu killed the game off with a goal in the last minute.


OFC FUTSAL CHAMPIONSHIP STANDINGS
| | | | | | | | | |
| --- | --- | --- | --- | --- | --- | --- | --- | --- |
| | PL | W | D | L | GF | GA | GD | PTS |
| SOL | 6 | 5 | 0 | 1 | 41 | 19 | +22 | 15 |
| TAH | 6 | 4 | 1 | 1 | 21 | 12 | +9 | 13 |
| VAN | 6 | 4 | 0 | 2 | 29 | 8 | +21 | 12 |
| NZL | 6 | 3 | 0 | 3 | 22 | 16 | +6 | 9 |
| FIJ | 6 | 3 | 0 | 3 | 31 | 31 | 0 | 9 |
| NCL | 6 | 1 | 1 | 4 | 22 | 30 | -8 | 4 |
| TUV | 6 | 0 | 0 | 6 | 7 | 57 | -50 | 0 |