NEW CALEDONIA - VANUATU : Day - 4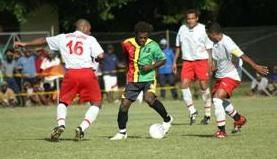 PORT VILA - Only three changes will be made to the Vanuatu national team for Saturday's crucial 2010 FIFA World Cup South Africa™ Qualifier/OFC Nations Cup 2008 return match against New Caledonia in Noumea.
Fredy Vava, Chikau Mansale and Jacques Yaput all return for Robert Calvo's team as Vanuatu goes in search of its first win since the sensational 2-0 upset victory over Solomon Islands at the XIII South Pacific Games nearly ten months ago.
Vava and Mansale will reunite with their outdoor colleagues after taking part in the Oceania Football Confederation (OFC) Futsal Championship at Vodafone Arena in Fiji last week.
Vanuatu coach Robert Calvo said the Australian-based Chikau Mansale will replace Vanuatu's veteran goalkeeper David Chilia who was left on the bench last Saturday.
He said the return of Jacques Yaput after receiving two yellow cards in the two matches against New Zealand was another welcome boost for the squad.
But Calvo says he is yet to decide who Vava will replace. Vava's inclusion adds much needed steel to Vanuatu's defence due to his height and experience.
On the other hand regular Vanuatu stalwart, Samson Obed has been ruled out after collecting two yellow cards. Samson Obed will be joined on the sidelines by Peter Maki who is still injured.
Otherwise the majority of the players who took part at last weekend's match will be travelling to New Caledonia on Friday morning before they play New Caledonia on Saturday, Calvo said.
Vanuatu's chances of World Cup qualification look slim with the only hope attached to New Caledonia taking four points off New Zealand and then the Caledonians dropping further points to Fiji.
Despite this seemingly unlikely scenario, Calvo said Vanuatu wanted to finish the tournament on a high note.
"We want to finish better on the table, its a clear goal for this team"
Vanuatu's fifth and final game will be against Fiji in September this year.
New Caledonia meanwhile face a must win situation if it is to have any chance of overtaking the highflying New Zealand team coached by Ricki Herbert.
Didier Chambaron's charges looked on course for a second victory when Ramon Djamali netted after 75 minutes but that dream was shattered just two minutes later when Eitenne Mermer levelled for Vanuatu.
The 1-1 draw preserved New Caledonia's unbeaten record but left the South Pacific Games gold medallists floundering some four points behind their rivals with the same number of games played.
A victory for New Caledonia will mean they go to within one point of New Zealand but the Kiwis will have the advantage of a game in hand before the two nations meet on September 6 and 10 later this year.
New Caledonia playmaker Pierre Wajoka will need to be at his best to prise open a tough Vanuatu rearguard boosted by the return of Futsal heroes Fedy Vava and Queensland Premier League custodian Chikau Mansale.
Vanuatu's last visit to Noumea resulted in a 5-3 loss at Stade Numa Daly before bouncing back two days later to record a morale boosting 2-0 win ahead of the XIII South Pacific Games - Samoa 2007.
Also at stake for New Caledonia and Vanuatu will be the OFC Nations Cup and a qualifying berth for the FIFA Confederations Cup - South Africa 2009.