Michael Joseph will officiate at Olympics Games !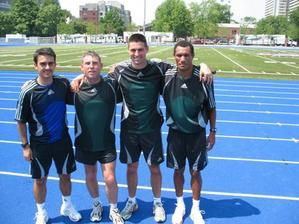 An invitation to officiate at a FIFA tournament is an honour for any referee or assistant referee. For three OFC officials, their invitation to the Beijing Olympics later this year is a very prestigious appointment and a positive sign of OFC's growing focus on referee development.
"In terms of recognition, the Olympics is probably only second to the FIFA World Cup. To be invited to participate in an Olympic Tournament is very exciting and we all looking forward to the opportunity to represent our countries and OFC" said Mike Hester, a FIFA referee from New Zealand.
Mike will lead an OFC Trio consisting of Michael Joseph from Vanuatu and Tevita Makasini from Tonga.
Team work amongst officials is a vital component for successful match control and the trio have worked together in the South Pacific Games in 2007 and more recently in Fiji for the Olympic Qualifiers. The OFC has been looking for opportunities for the trio to work together as often as possible as they prepare for the Games.
As a result, the trio recently completed a six day preparation camp period during 5 – 11 June in Auckland.
During the build up phase, the trio officiated on two Northern Region Premier League matches and underwent a fitness test. This was supplemented with a daily program of coaching, testing on the laws of the game, video analysis, recovery sessions, and practical sessions focussed on teamwork and communication techniques.
Hester said that the opportunity to work together and further develop the trio's teamwork and communication techniques has been invaluable.
"The standard and pace of the games at the Olympics will be very fast so we need to ready for that individually and as a team."
The trio have their preparatory fitness test in Fiji on 12 July and then one final game together in PNG on 19 July (appointment yet to be confirmed). They fly out to China on 30 July and will undergo a week of acclimatisation and preparation before the tournament starts on 6 August 2008.