VFF HELPS DEVELOP FUTSAL REFEREES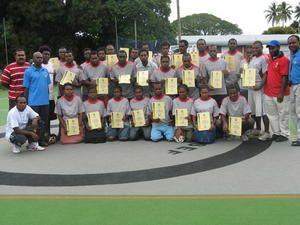 Vanuatu
's participation in the Futsal World Cup qualifiers in Fiji last month has inspired referees and players across the country to turn to the indoor format of the world game.
A successful four-day futsal referee introductory course ended last week at Wan Smol Bag Court in Port Vila.
Vanuatu Football Federation Referee Development Officer, Harry Atisson who coordinated the training was ecstatic about the outcome.
He said the course produced 31 new futsal referees who will be officiating in the newly set-up Shefa Futsal League.
Harry Atisson said some of the topics covered in the course include, the basic Laws of Futsal, Positioning of referees, practical session and the Fitness test.
Harry Atisson said the course has also found many promising male and female referees, which he said will be vital for the Shefa Futsal League and the country.
"Many of the participants who attended are young and if they continue to work well they could earn their FIFA badge in the next 4 or 5 years."
He added that a similar course will be conducted for the Port Vila Futsal League and other Football Associations in Vanuatu this year.
All the participants received a Vanuatu Futsal Referee Introductory Certificates at the end of the course.