Solo Olympic wins Wantok Cup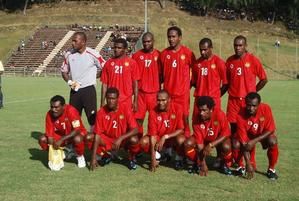 H
ONIARA
: The visiting Vanuatu national team spoiled Solomon Bonitos' independence party beating them 2-1 in the final match of the inaugural Telekom Wantok Cup here in Honiara on Monday.
Goals from substitute Jean Robert Yelou and stand-in captain Seimata Chilia was enough to cancel out Lency Saeni's opener and become the runners up behind Solympics in the three days tournament.
Vanuatu made few changes from their original line up against Solympics on Saturday with experienced Chikau Mansale starting in goal defending the western end of Lawson Tama in the first half.Derek Malas also started with coach Malas Williams opting
to retain his two forwards in Jean Nako Naprapol and Michell Kaltak
Solomon Bonitos looked lethal upfront with Commins Menapi and Godwin Bebeu leading the attack, Mostyn Beui, Judd Molea, Ian Ngahu and Saeni in midfield.
The first half though seemed tough, each side failed to utilise its chances as the goal drought continued.
Vanuatu had their fair share of the game with Naprapol missing his golden chances trying to bury the ball behind Bonitos keeper Leon Lekezoto.
The ever reliable Nelson Sale, Martin Ruhasia, Arnold Keni and Mahlon Houkarawa started for Bonito in defence.
But Vanuatu's midfield combination of Seimata and captain Moise Poida were outstanding, orchestrating clinical moves from the centre for their wingers and forwards.
Poida also tested Lekezoto towards half time with a blistering shot, but the Bonito held on to a nil all draw going into the break.
The second half promised more drama as Bonitos brought in Matthew Okamae to strengthen the defence when Keni almost let Vanuatu took the lead.
When Vanuatu looked sharp to score, Menapi shot straight at Mansale at the right eastern end of Lawson Tama and Saeni scored from the rebound for the opener.
From then on, the match became tough and rough as both sides searched high and low for goals.
Then as Naprapol missed another chance, coach Malas brought in Yelou who scored the only goal in their 1-2 defeat to Solympics on Saturday.
The introduction of Yelou made a huge impact as he contributed to both goals for Vanuatu in the second half.
He scored the equaliser when he came face to face with Lekezoto after his midfielders split open the Bonito's defence.
Yelou also won the free kick when Sale brought him down outside the penalty area, which Seimata curled home past Lekezoto for Vanuatu's second and winning goal.
Poida and Jeffry Lego Gete left the field of play on stretcher, which perhaps summed up Bonito's frustration on the day.
And when Vanuatu's substitute Selwyn Tari handed Seimata the captain's arm band from injured Poida, he (Seimata) delivered the killer free kick to give the visitors a deserved victory.
Solympics who drew 3-3 with Bonito last Thursday and win 2-1 against Vanuatu on Saturday won a trophy, gold medals and the $40,000 Solomon dollars cash prize as champions with four points.
Vanuatu came second with three points and won a $20,000 cash prize and silver medals whilst Solomon Bonito came third with a $10,000 cash award and bronze medals earning just one point.