The academy of Teouma will be operational in 2009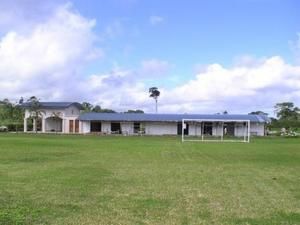 Les travaux de la seconde phase du Projet Goal de la FIFA à l'Académie de football de Teouma (Vanuatu) sont toujours en cours et devraient se terminer vers la fin du mois de Septembre. Cette seconde phase va permettre à la VFF de mettre en place ses programmes d'Elite et de préparation de la sélection des moins de 17 ans. Les travaux, réalisés par l'entreprise Traverso, comprennent un vestiaire, des studios pour les encadrants et une salle de soins. Les travaux majeurs ont été déjà effectués et il ne reste plus que les travaux de finition. Il restera ensuite une dernière petite tranche de travaux prévue aux mois d'octobre et novembre. Cette tranche va permettre de rendre totalement opérationnelle l'académie de football de Teouma. Les travaux comprennent l'aménagement de la cuisine, une salle de blanchisserie et l'aménagement du dortoir.
Selon la VFF, ce centre va accueillir environ 36 élèves à partir de Fevrier 2009, pour le programme d'Elite appelé Goal Football. Certains jeunes seront scolarisés et suivront un programme éducatif standard. Ceux qui ne sont pas scolarises vont suivre des cours de rattrapage grâce au partenariat du Ministère de l'Education. La VFF proposera un programme complet pour éduquer ces jeunes aussi bien sur le plan pédagogique que sur le plan footballistique. La VFF va également créer des partenariats avec les entreprises de Port Vila pour permettre à ceux qui ne réussiront pas dans le football, d'avoir un avenir professionnel au sein des entreprises du pays.

Works of the second phase of the FIFA Goal Project at the Football Academy of Teouma (Vanuatu) is always in hand and should finish towards the end of September. With this second phase, VFF will set up its Elite programme and the preparation of the Under 17 years old national squad. The works, realised by the Traverso company, includes a cloakroom, studios for coaches and a medical room. Major work was already carried out. There will remain then a small last "slice" of works envisaged in October and November, to make completely operational the Academy of football of Teouma. Work includes the equipment of the kitchen, a laundry room and the equipment of the dormitory.


According to VFF, this place will accommodate approximately 36 young footballers in February 2009, for the program of Elite called Goal Football.

Some of these young people will go at school and will follow a standard educational program. Those which are leaved the school will follow remedial courses thanks to the partnership of the Ministry of Education.

The VFF will propose a complete program to educate these young people as well on the teaching level on the footballistic level. VFF also will create partnerships with the companies of Vila Port, for those which will not succeed in football, they will have a professional future within the companies of the country.