KURUKURU SCORE CONVINVING WIN OVER MACCABI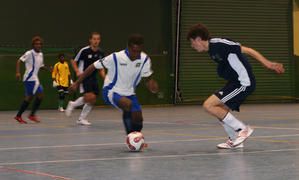 Solomon Kurukuru trounced local Sydney side Maccabi 12-3 in their characteristic flamboyant style last night at the Dural Sports and Leisure Centre. It was the second practice match on tour for the Solomon boys, with coach Victor Wai'ia once again fielding an experimental line-up in order to best prepare for the World Cup.
As with Saturday's game against New South Wales, the focus of the team was again on defence. Earlier in the day the squad welcomed technical advisor Scott Gilligan (our photo), the current Australian coach and former Tahiti Technical Advisor, who brings a wealth of experience to Kurukuru. He took the boys through a special training session on defensive techniques earlier in the day.
"I think that' it's a great opportunity for me and it's a pleasure to be involved with a such a group of young and talented players," he said.
"We only had a half-hour session together before playing Maccabi and they picked things up really well. There was a great improvement defensively between the game against new South Wales and tonight. After two weeks in Brazil I think they'll improve a lot."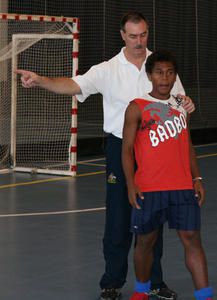 Five unanswered goals in the first fifteen minutes as good as guaranteed Kurukuru the victory, although Maccabi hit back twice late in the half to reduce the deficit. One of their goals came from a penalty kick that Maccabi earned after Solomons conceded five free kicks in play, something that Wai'ia regretted.
"It was a shame about the amount of fouls that we gave, but it was good for the boys to learn now not to over-commit in tackles while still being defensively strong."
Goals continued to flow for Kurukuru in the second half, although their ambition to keep their own net free of the ball was not met as Maccabi struck a consolation goal shortly after Solomons had established an 11-2 lead.
The goal of the match came from Kukukuru goalkeeper Junior Kogua who ventured from the back of the court and passed to Philip Houtarau, who then found Moffat Sikwa'ai. The ball was then squared to Kogua who cracked a shot passed the Maccabi keeper.
Today the team completed their final gym and pool session in Sydney, before leaving for Brazil on Thursday evening. Winger Francis Lafai said that the team has enjoyed being in Australia, but that, 'the weather is so cold. But it's been good here because we can watch video footage of our practice matches and learn from our mistakes. I'm very exited because I've always dreamt about playing Futsal in Brazil.'