POLOSO HEADS TO SPAIN FOR REFEREE INSTRUCTORS PROGRAM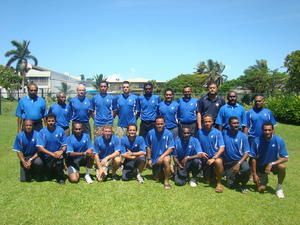 HONIARA
- Solomon Island FIFA Referee Instructor Neil Poloso left yesterday for Spain to attend a programme FIFA has designed for its instructors worldwide.
Poloso said the programme is used to update them with the latest referee programmes which they will use to teach instructors and referees in the different member associations.
He will then travel to Noumea to run a refereeing programme before heading off to Brazil to help prepare referees for the FIFA Futsal World Cup and returns home on October 5 2008.
Solomon Island referees have been making a splash around the region with the recent 2010 FIFA World Cup Qualifying matches.
Andrew Moli (FIFA Referee) and Matthew Taro (FIFA Assistant Referee) were in action in Auckland and Port Vila respectively in the last two matches of the 2010 FIFA World Cup, South Africa yesterday
Moli was assigned as a fourth official for the New Zealand and New Caledonia match in Auckland while Taro to assist in Vanuatu and Fiji match.
Speaking on their appointment, local FIFA Referees Instructor Neil Poloso said Solomon Islands referees have always performed well when ever they are assigned that is why they will continue to be called on to officiate matches in the region.
He challenged other referees who aspire to go for the FIFA badge to show commitment to training and to be versed with the Laws of the Game if they want to be considered appointment.